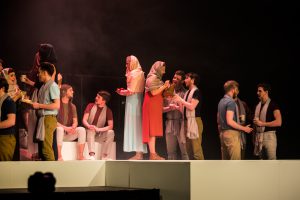 "A family – that's what we've come to be" featuring The London Touring Cast – Risen! The Musical at the New Theatre Royal, Portsmouth

Judas – "This perfume could have been sold for the poor." John- "Judas is felt to be a reliable man" – John and Ensemble – "Hosanna"
Last week I said that Professor Stephen Hawking's first wife was Jane Wilde. She is now 70 and married Hawking in 1965 after meeting him through his sister at a party when he was 23, a year after he was diagnosed with Motor Neuron Disease.
Wilde wrote the book "Travelling to Infinity: My Life with Stephen" from which the award winning film "The Theory of Everything" was adapted.
So I have two very good friends, Tony Smith and his wife Anne who now live in Cambridge. When I saw them a couple of years ago I said that I had just seen the film "The Theory of Everything" in which award winning actor Eddie Redmayne does such an amazing job playing Stephen Hawking. Actor Felicity Jones also received high acclaim for her portrayal of his wife Jane Wilde.
My friend Anne then told me that she too had recently seen the film and that she had an interesting story to share with me.
Anne had been speaking to some friends before the start of their choir practice. She could not understand why they started smiling and even laughing when she spoke of how good the film was and what an amazing woman Stephen Hawking's first wife was.
Anne asked what the hilarity was all about and her friends pointed to another member of their choir – another person who Anne knew well but only by her first name which was Jane.
Yes you have guessed it -that member of Anne's choir was Jane Wilde – the first wife of Stephen Hawking.