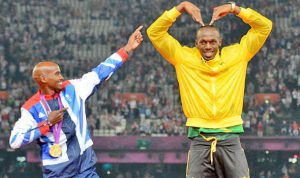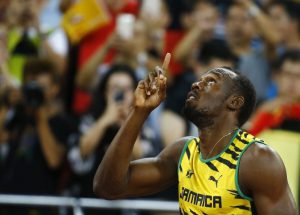 You Are The Shepherd Of My Soul featuring Lucy Stimpson- Maynard from the album "Love Is The Way" recorded and produced by Bob Ross
On July 23rd 2015 I wrote that Zach Johnson the winner of the 2015 Golf Open, is a Christian and on December 17th I wrote that Bear Gyrills is a Christian. I did this just to make the point that people you might not necessarily expect to be Christian actually are. This week I am again delaying addressing the question of is there a conflict between Christianity and Science by bringing to your attention another person who is a Christian which might possibly surprise you- Usain Bolt.
I thought that he might well be a Christian when I saw him look up to heaven and also make the sign of a cross on his chest. So I googled it and yes he is most definitely a Christian – One source states:
Bolt is a Catholic and his middle name was given to him in honor of one of the Catholic Church's earliest Popes.1 Bolt is devout in his faith. He makes the sign of the cross before beginning a competition and, according to his public relations people, he is a "Bible-believing, God-honoring, Jesus-worshiping Christian." It's not something he talks much about. Though he does occasionally tweet things like: With God anything is possible… I demolish training today #thankuGod
His faith and his celebrity inspired the Vatican to invite him to speak at a conference on global religious liberty.
Here are some other examples of his tweets:
I want to thank God for everything He has done for me for without Him none of this would be possible.
Never forget the true meaning of the day – Good Friday
Yea though I walk through the valley of the shadow of death I will feel no evil for thou art with me.
The fabulous Gold medal winning Fijian Seven a Side Rugby team who beat Great Britain in the recent Olympic Final are also Christians as can be seen from their rendition of "We Shall Overcome."
Yes I know Mo Farrah is a Muslim and what a lovely pic of him with Usain Bolt, hopefully symbolizing that the two faiths can live side by side in this world.