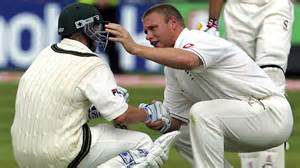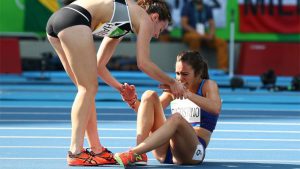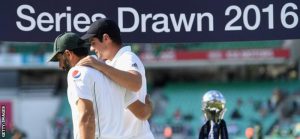 "Do Not Let Your Hearts Be Troubled" featuring Ben Morris from the album Risen! The Musical recorded and produced by Joffy Girling
The next instalment of "Is there a conflict between Christianity and Science?" is on hold yet again as this week I want to refer to these pictures that show how sport can be a wonderful means of bringing people together in friendship; giving great opportunities for the expression of compassion and care.
For example the true Olympic spirit shone out when New Zealand's Nikki Hamblin and Abbey D"Agostino of the USA helped each other out after colliding in their heat of the women's 5000m. D'Agostino tore her anterior cruciate knee ligament in the incident but both runners insisted on completing their race. They were both handed places in the final but the injury prevented the American taking part.
The four recent test matches between England and Pakistan were really hard fought with the two teams winning two matches each. I thought this was a lovely picture of Alastair Cook, the England captain and Misbah-ul- Haq, the Pakistan captain expressing warmth and mutual respect.
I have long admired Brendon McCullum, the New Zealand cricket captain and the sporting way in which he ensured his country played. However my favourite sportsmanship picture and story is that of Andrew "Freddie" Flintoff of England and Brett Lee of Australia. This picture held pride of place for many years on the Crofton School PE Notice board. The story has been told a thousand times but in the Ashes series of 2005 Flintoff had just been pounding Lee with 90 mph deliveries as Lee was holding out in the Australian last wicket partnership. With just a few balls left Lee's batting partner was controversially given out and all the English team went mad celebrating their win – all except for England fast bowler Steve Harmison who was apparently first to go to Lee as he slumped to the turf, distraught, after  unsuccessfully working so hard to avoid defeat. Harmison's  generous gesture was  followed , as captured in this great photograph, by Andrew "Freddie" Flintoff kneeling down  to console Lee.
Next week "Is there a conflict between Christianity and Science?" will definitely continue!