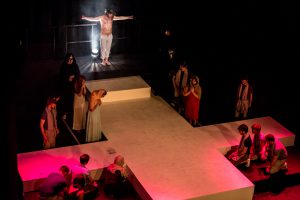 One Day A Crown – featuring the London Touring Cast at the New Theatre Royal, Portsmouth

Against Jesus Pilate Can Find No Charge To Stand – One Day A Crown- featuring The Original Cast from the album "Risen! The Musical recorded and produced by Joffy Girling
Last blog I explained I have been working on a submission to the Arts Council to help fund a short tour of Risen! The Musical. The Arts Council wanted a 600 character outline of the project which I shared with you last week. They also want a more detailed explanation including what we want to achieve- all in 3000 characters which is below:
What is your proposed artistic activity, and what do you want to achieve by doing it
In order to engage a larger and more eclectic audience our proposed artistic activity is a UK Tour of Risen! The Musical. The following venues are provisionally booked: The Crescent Theatre, Birmingham, The Point Theatre, Eastleigh, The Warwick Arts Centre, Coventry, The Corn Exchange Theatre, Cambridge, the New Theatre Royal, Portsmouth and The Redgrave Theatre, Bristol,
Marketing and audience development will be in association with partner charities and agencies local to the various venues. Examples are Wellspring Counselling Ltd of Nailsea, Bristol, Faith and Football of Portsmouth and Churches Together in Eastleigh.
An integral part of the project will be for members of the cast and technical team to visit three partner secondary schools local to the venues with one from a disadvantaged community. They will perform extracts from Risen! The Musical in assemblies and deliver musical theatre workshops. Our aim will be to promote Risen! The Musical and to stimulate interest in musical theatre amongst young people; some of whom will perhaps be engaged for the first time. Partner schools will be encouraged to organise trips for pupils and families to see a performance of Risen! The Musical and also produce the show themselves at some point in the future. We already have a written reduced piano score for this purpose. We are in the process of contacting appropriate schools identified by our partner agencies and the enthusiasm and commitment of the Portsmouth schools of Portsmouth Grammar, Portsmouth 6th Form College, Crofton School and Brune Park School is indicative of the support we expect to receive.
Theatrical productions normally focus on the Passion of Christ concluding with His crucifixion. Risen! The Musical however does not stop there but continues with a faithful synopsis of the Gospel accounts portraying Christ's resurrection appearances and the impact on His followers. From this perspective Risen! The Musical addresses the question pondered by humankind since life began "If someone dies will they live again?"
C.S Lewis makes the point that if Christianity, founded on belief in Christ's resurrection, is false then it is of no importance and if true is of infinite importance. The only thing it cannot be is of moderate importance. Taking this view the Risen! storyline cannot be of moderate importance and is, therefore worthy of considered thought and exploration. Through a compelling script, top quality songs, acting and dance Risen! The Musical entertains, informs, challenges, moves and inspires those of all ages, personal beliefs and philosophies. This view is supported by such comments from audiences such as "You brought so much joy to everyone" "A wonderful show which brought many of us to tears" "A couple from a background of alcohol abuse and violence were greatly impacted"
Our intention is to achieve a live theatre audience of over 4400 with a further 15,000 reached through the school visits. We expect in excess of 1000 also benefiting from hearing and viewing the Risen! DVDs and CDs.
Another important aim is to help the cast and technical team develop their careers. Most cast members have not long graduated and so the experience of this project will be invaluable.
Although the acclaim for Risen! The Musical has been a great encouragement we realise that it is still a work in progress. We sincerely believe that preparing and delivering a UK tour will enable Risen! to develop into an artistic production worthy of widespread exposure leading to further and more ambitious productions