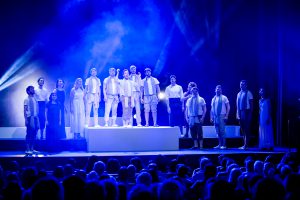 "How Great Are His Signs" Featuring the London Touring Cast at the New Theatre Royal, Portsmouth April 2016

"I Will Tell" featuring Lucy Stimpson- Maynard from the album " I Look Up To The Heavens" recorded and produced by John Hodgkinson
I am at last getting close to finishing an application for Arts Council funding for a UK tour of Risen! The Musical. Last blog I shared the section in which I had 3000 characters to answer "What is your proposed artistic activity and what do you want to achieve by doing it?"
This week I will share another section this time having 1500 characters to answer "Who will engage with this activity? Tell us about the target audiences or people taking part, and how they will engage with the activity.
Centring on the resurrection of Jesus of Nazareth a UK tour of Risen! The Musical will be particularly attractive to His followers, especially at a time of the Easter celebrations. However evaluation of previous performances has shown that Risen! The Musical engages enthusiasts of musical theatre irrespective of their personal beliefs and philosophies, age and economic circumstance. Our target audience will, therefore be wide ranging and inclusive.
Risen! The Musical is an historical account but one underpinned by a desire to explore arguably the most fundamental question most will ask, namely "If someone dies will they live again?" Audiences of Risen! The Musical will, therefore be informed and challenged as well as entertained. They will witness love, betrayal, sacrifice, anguish, disbelief, hope, joy and anticipation. For some it is possible that Risen! The Musical will be life changing.
Members of the Risen! cast visiting 20 schools to perform in assemblies and to deliver musical theatre workshops is a wonderful mechanism for audience development. It will promote Risen! The Musical and also strive to generate further interest and enthusiasm for musical theatre. Schools will be encouraged to organise school trips to see a Risen! production and in addition over 15000 pupils will be audience members of the school assembly performances. (average school assembly audience of 750 x 20 schools) The musical theatre workshops will also involve over 4000 pupils as participants.(e.g. 200 pupils per school x 20 schools ) Our vision is for some schools to continue to be engaged producing Risen! The Musical themselves.
DVDs and CDs of Risen! The Musical will be available, thus allowing more opportunities for public engagement.