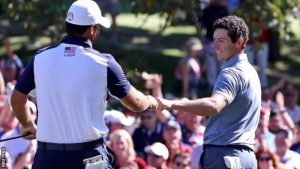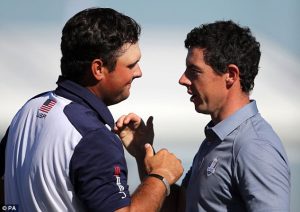 Rory Mcilroy and Patrick Reed – Ryder Cup 2016

"There's More Than One Way Of Saying I Love You" featuring Lucy Stimpson- Maynard from the album "Uplifted" recorded by Bob Ross
I love seeing examples of sportsmanship. Not long ago I talked about the incident with cricketers Andrew "Freddie Flintoff" and Brett Lee and I wonder how many of you saw what happened in the Ryder Cup singles golf competition between Rory McIlroy of Europe and Patrick Reed of USA? The partisan American crowd were going too far and after Rory holed a monster 50 foot birdie putt on the 8th hole he mocked the crowd (fairly playfully- saying he could not hear them – he also put his finger to his lips as if to shut up his opponent who had been "stirring the crowd up") Patrick then sunk his own 20 foot putt for birdie. Instead of storming off Rory smiled and waited just off the green for Patrick. They then shared a "fist pump" and went off to the next hole arm in arm – a great sporting moment.
At long last after countless hours sat at my computer the application for Arts Council funding has been submitted.
The questions asked included:
Please give a concise description of the activity you are asking us to support: 600 characters
Please provide a brief summary of your (or your organisation's) recent relevant artistic work, experience and achievements: 1500 characters
What is your proposed artistic activity, and what do you want to achieve by doing it: 3000 characters
Who will engage with this activity? Tell us about the target audiences or people taking part, and how they will engage with the activity: 1500 words
Please describe how you will reach your target audience or participants, in the short or long term, and give details of your proposed marketing activities where appropriate: 3000 characters
What will be the wider impact of the project? Please include reference to sector development, art form impact and legacy where appropriate: 1500 characters
Please describe your approach to raising as much money as you can from other sources. Identify which other sources of funding you have applied to, and the progress of any other applications you have made (including the date you will know the outcome): 1500 characters
Briefly tell us about your experience in managing budgets, and describe how you will manage the budget: 1500 characters
Please describe how any fees, rates and purchases have been calculated: 1500 characters
Please use this box to explain your support in kind in more detail, if necessary: 1500
characters
Please provide a brief summary of your and your partners' recent experience in managing similar types of activity: 1500 characters.
We report to local and national government on where funded activity takes place. To help us to do this we ask you to give us information on where your activity will take place.
Please tell us what category your activity falls into, then click 'Save and Next' to tell us where it happens.
Please briefly identify the main stages of any planning and preparation activity completed to date. Please note this work should not be included in your budget, as we cannot fund any part of an activity that has already taken place:
1500 characters
Please briefly describe your plans to evaluate this activity: 1500 characters
Also required was an audience development plan a detailed budget plan and a cash flow projection
Well we are asking for over £83,000 !!