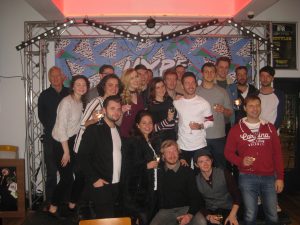 Enjoying Presecco before the cast screening of Risen! The Musical
On Sunday I travelled to the London College of Music in Ealing with my very good friend Dr Graham Giles MBE. We went to meet the cast of Risen! The Musical in order to watch, for the first time, the DVD of Risen! The Musical, filmed earlier this year at the New Theatre Royal, Portsmouth.
Global Fire Creative had most kindly taken on the enormous job of not only filming the one hour fifty minute show but also editing it. Well that is not entirely true, in fact the full burden of the visual edit fell on the shoulders of Ross Gill, a Global Fire Director and an ex Crofton student who for so long has been a integral part of Mustard Seed Songs. Ross played guitar and led the Mustard Seed Soul Band who featured in many Mustard Seed concerts and in our first musical His Story. He also recorded and produced numerous Mustard Seed CDs including the one dedicated to my mother "Precious." Goodness knows how many hours Ross spent of his own personal time editing Risen! but the result is fabulous and we are very much in his debt. Thank you Ross!
The DVDs are about to be replicated through another ex- Crofton student, Tim Courtnell and should be available for purchase from December 17th via our website www.risenthemusical.com
The cast screening was a wonderful experience. There were over twenty members of the cast and technical team who, after enjoying a glass (or two) of Prosecco in the London College of Music bar, moved to another part of the building – the William Barry Theatre to watch the film.
Ross edited the visuals but Joffy Girling edited the audio- it was brilliant listening to the cast applaud one another's performances and even more brilliant listening to their cries of joy when hearing the fabulous harmonies that Joffy had so skilfully mixed.
Yes it was a fantastic occasion and now we wait in anticipation for the DVDs to be produced and distributed so that others may enjoy hearing and seeing this life changing story of Christ's Resurrection and how His followers' lives were transformed.

"Do You Have Anything To Eat " taken from the CD  "Risen! The Musical" featuring the Original Cast – recorded and produced by Joffy Girling