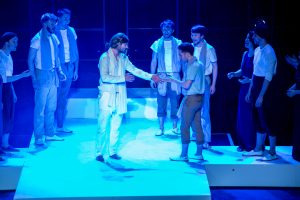 Reach out – put your hand in my side" From Risen! The Musical featuring The Original Cast – recorded and produced by Joffy Girling

"Reach out put your hand in my side" from Risen! The Musical featuring The London Touring Cast filmed at the New Theatre Royal, Portsmouth
Well the good news is that yesterday the long awaited 1500 DVDs of Risen! The Musical were delivered to my house. Some will be offered to schools and prisons but a number will be sold at £9.99 with the proceeds going to a charity which provides a safe house for street children in the Philippines, The House of the Heroes www.houseoftheheores.org and www.facebook.com/houseoftheheroes Its Founder is Craig Johnson who is co- director with Ross Gill of Global Fire Creative. It was Global Fire that filmed and edited the Risen! DVD so supporting their charity is a gesture of thanks from mustard seed songs.
There will be information next week on how to purchase the Risen! DVDs via our website but if you can't wait (!!) please email me on ken@risenthemusical.com and I will give you details of how to purchase one at £9.99 plus 0.99p post and packing.
So that was the good news – the bad news is that we were unsuccessful with our submission to the Arts Council to fund a short UK tour of Risen! The Musical (see blogs September 15th, 22nd and 29th) The tour included performances in theatres in Birmingham, Eastleigh, Coventry, Cambridge, Portsmouth and Bristol. The cast were also to visit schools- performing extracts from Risen! and delivering workshops on musical theatre. Everything was booked so it is very disappointing; however we have not given up and are now looking for a private sponsor(s)
Finishing on a high note – today I am off to the London College of Music in Ealing to watch two performances of West Side Story – why two? Well in the Matinee, Tony is played by Adam Collins (stage name Harry Collins) and in the evening Tony is played by Aaron Peart (stage name Aaron Blackburn) Adam and Aaron both performed in the DVD of Risen! The Musical – Adam playing the disciple Thaddeus and Aaron the disciple Nathaniel.
Not sure where the expression "break a leg" comes from but "break a leg Aaron and Adam!"