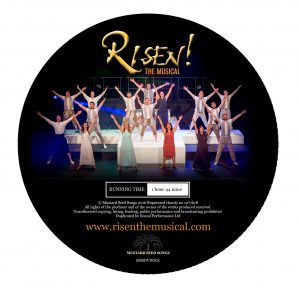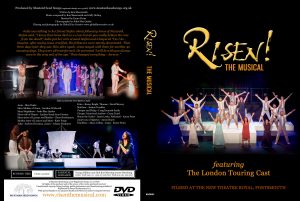 DVD of Risen! The Musical featuring the London Touring Cast, filmed at the New Theatre Royal, Portsmouth.

"Be Set Free" featuring the Original Cast from the CD of Risen! The Musical recorded and produced by Joffy Girling
My dear friend and trustee of Mustard Seed Songs, Dr Graham Giles, MBE, has placed the newly released DVD of Risen! The Musical (www.risenthemusical.com) into the hands of prominent people in Romania, a country in which he has great influence being, amongst many things, Charity Director at Europa pentru Europa.
One person who received a DVD is Raymond Vancu, a nationally recognised pianist, singer and composer. One of his videos highlighting drug use and homelessness in his native land can be seen here https://www.youtube.com/watch?v=uVJRPMlcH6U
After watching the Risen! The Musical DVD Raymond wrote this amazing testimonial:
I saw the musical… IT IS FABULOUS! Everything is fantastic: Music, Lyrics, Orchestrations, vocal interpretations, musicians, guys behind the stage… The entire concept of the show (choreography & light, etc…) fits perfectly with the message of the music. When I say this, I know exactly how HUGE the work is to make something like this… it takes months even years making so well such a live-production! Praise the Lord and God bless all the people who were involved in this amazing project…
Thank you for sharing with me this precious treasure… I hope in future to see RISEN! all over the world.  It will be a big gain as well, for Romanian people, to see this with subtitles…
Amazing! God bless you all!"
Raymond Vancu
I think the phrase "Watch this space" is in order!
I went to the first session at my church, Holy Rood on "God's Strategy in Human History" – it was pretty challenging stuff – but one thought I came away with was that it is only in this life that we get the chance to trust God- there will be no need to trust Him in the next life because everything there will be perfect – it is in this life especially when things are going wrong that we get the chance to trust Him.
Also, and I suppose a post script to my previous blog comments on why does God allow suffering in the world is that God is good and good all the time but life is sometimes bad, and when life is sometimes bad that does not mean that God becomes bad- no He is always good- we just muddle God and life up.
More on that next week methinks.