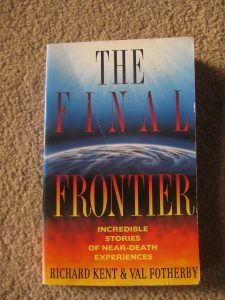 "The Final Frontier" by Dr Richard Kent

Yours is a Jealous Love featuring Lucy Stimpson- Maynard from the album "Precious" recorded and produced by Ross Gill
In one of my very early blogs I wrote of my fear of death and how I gained hope from the promise of Jesus recorded in John 3:16 "For God so loved the world that He gave His one and only Son, that whoever believes in Him shall not perish but have eternal life." This was around twenty years ago and around this time I went to a talk given by Dr Richard Kent on near or after death experiences. These are described in his books "The Final Frontier" and "Beyond The Final Frontier" both still available from Amazon but which you can download free of charge with these links
http://www.freechristianteaching.tv/the-final-frontier-ebook-landing-page
http://www.freechristianteaching.tv/beyond-the-final-frontier-landing
Two films were also produced – "The Final Frontier" and The Lazarus Phenomenon." Again both can be downloaded free of charge:
http://www.freechristianteaching.tv/index.php/the-final-frontier-movie
http://www.freechristianteaching.tv/the-lazarus-phenomenon-movie
After hearing Richard's brilliant presentation I read "The Final Frontier "and was not only amazed but also heartened with more evidence that death is not the end, but that there is an after- life.
My friend Chris Wickland recently posted on Facebook an interview he had on Christian Cable Revelation TV. Chris played guitar for the Mustard Seed Soul Band and is now a Pastor for the Living Word Church. I was looking for a means of introduction to Revelation TV to offer Risen! The Musical for broadcast so I contacted the person who had interviewed Chris and that was Dr Richard Kent. Now at the time I had no idea that Dr Richard Kent, the interviewer and Dr Richard Kent, writer of "The Final Frontier are one and the same person.
Anyway I emailed Richard who turned out to be a Trustee of Revelation TV. He suggested I send the Risen! promo links to the Revelation leadership- I also sent them to Richard who found them to be "very interesting." Encouraged I sent copies of the Risen! DVD to both the Revelation leadership and to Richard. Then out of the blue Richard rang me – as soon as I heard his voice I recognised him to be the same person who had written "The Final Frontier" and who I had heard speak those 20 or so years ago.
Well to cut a long story short we had a brilliant meeting together. We had breakfast at the Marriot Hotel and then went to his lovely home. I am not sure exactly what will come from this new and exciting friendship but I know that it is one that I already highly value and that Risen! The Musical has gained another wonderful advocate.
Richard features regularly on Revelation TV with fantastic presentations:
One I have just watched which is absolutely fascinating is on the Shroud of Turin.
http://www.freechristianteaching.tv/turin-shroud-landing
Richard also has brilliant short "Fun Facts" that I can thoroughly recommend:
https://www.youtube.com/playlist?list=PLuaWUFSxNu7MGpB0iO8XxgZ8DazK8gRF_
We are not yet sure if Risen! The Musical will be broadcast on Revelation TV but we do know for definite that it is to be broadcast on 32 satellite channels in Romania   – but more of that next week.