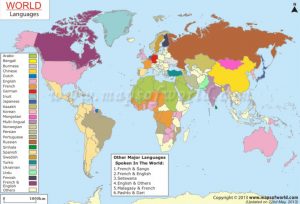 (Source http://www.mapsofworld.com/world-language-map.htm)

"Amazing Love! (again!) featuring Lucy Stimpson- Maynard taken from the album "Love is the Way" recorded and produced by John Hodgkinson
So at the moment we are unsure when the next stage production of Risen! The Musical will take place. This is all because we need funding and, at present the Arts Council do not wish to play ball and be supportive. However there has been great interest in the DVD featuring the London Touring Cast and as I mentioned in my blog of two weeks ago it is to be broadcast in Easter on 22 Romanian satellite channels associated with Christian Cable TV Alpha – Omega. This was all set up by my very dear friend Dr Graham Giles MBE who is a Trustee of Mustard Seed Songs. Graham is also in discussions with another, even larger Romanian Christian TV channel- Credo.
In that blog I also said that I had met with Dr Richard Kent, a Trustee and Presenter of the UK Christian Cable TV channel, Revelation TV. We are hoping that Risen! The Musical will also be broadcast on Revelation and although not 100% confirmed it is looking really good for another Easter broadcast.
Graham has also organised the Risen! The Musical script/score to be translated into Romanian and Spanish and another dear friend, Mick Mellows is getting it translated into Korean and Serbo Croat. Alpha- Omega has the resources to encode subtitles onto the original Risen! DVD so the idea is that with these and other translations we can make, in Graham's words, "The planet the platform."
Oh I nearly forgot! Risen! The Musical has already been translated into the world's most commonly used language – Chinese (Mandarin) One of Graham's friends Prof Mel Richardson MBE spoke to Katherine Hobbs who originates from Xichang in China. Katherine performed a "labour of love" in spending three weekends translating all 37 pages of the Risen! script. Here is an example- it is the introduction spoken by Alex Knox (see blog November 24th 2016)
Jodie was talking to her friend Stefan about following Jesus of Nazareth.  Stefan said, "I know that Jesus died on a cross but do you really believe He rose from the dead? " Jodie put her arm around Stefan and whispered "Yes I do- imagine, after seeing Jesus crucified, His followers were utterly devastated. Then three days later they saw Him alive again. Jesus stayed with them for another 40 amazing days. They were all transformed.   He promised 'I will be with you always even to the very end of the age.' That changed everything – forever. "
朱迪正在跟她的朋友斯特凡谈论跟随拿撒勒的耶稣。 斯特凡说:"我知道耶稣在十字架上死了,但你真的相信他从死里复活了吗? "朱迪把手臂放在斯特凡肩上,低声说道: "是的,试想一下,在看见耶稣钉死在十字架上之后,他的追随者们是如何地痛心。 而三天后,他们却再次见到了重生的他。 此后,耶稣与他们一起度过了另外40个无比神奇的日子,使他们也被彻底感化了。 耶稣承诺过:"我将永远与你们在一起,直到岁月的尽头。" 而这,也从此改变了一切。
How amazing is that!!! Thank you so very, very much Katherine.
Oh and another thing- I taught Katherine's husband Phil and her brother in law, Tim at Crofton School, in fact Mr Mill was Tim's tutor. Yes it is a small world in which we live.