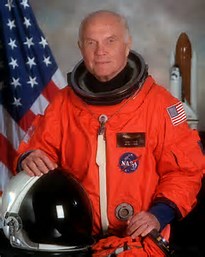 "There's More Than One Way Of Saying I Love You" featuring Lucy Stimpson- Maynard from the album "Uplifted" recorded and produced by Bob Ross
At the weekend I read an article that I thought I would share with you. Last year in thirteen blogs I considered the question of "Is there a conflict between Christianity and Science?" One issue would have been whether or not our amazing world was created by accident or by an intelligent designer. One thing is for sure – it is impossible to look up to the moon and stars at night and not be awestruck. If looking at the heavens from here on earth is so amazing, imagine what it would be like looking at it from outer space! One person who has done that is the American, John Glenn.
Wikipedia states that John Herschel Glenn Jr. (July 18, 1921 – December 8, 2016) was a United States Marine Corps aviator, engineer, astronaut, and United States Senator from Ohio. In 1962 he was the first American to orbit the Earth, circling it three times. Before joining NASA, Glenn was a distinguished fighter pilot in World War II and Korea with six Distinguished Flying Crosses and eighteen clusters on his Air Medal.
A member of the Democratic Party, Glenn first won election to the Senate in 1974 and served for 24 years until January 3, 1999. In 1998, still a sitting senator, Glenn was the oldest person at age 77 to fly in space as a crew member of the Discovery space shuttle and the only person to fly in both the Mercury and Space Shuttle programs. He received the Presidential Medal of Freedom in 2012.
This is what I read about John Glenn's experience of looking at Planet Earth from space:
But far from his ego being rocket -boosted by such an achievement, the pioneering astronaut was humbled by the experience and his faith in the Creator of the universe increased. Glenn, who died in December 2016 aged 95 was on his first orbit of space in February 1962 when his heat shield was thought to have come loose and many believed it might fail during the reentry which would cause Glenn's capsule to be incinerated in its fiery descent. Glenn was told to take manual control of the capsule and described a "real fire ball" outside as he reentered the atmosphere. He prayed and thankfully his prayers were answered as he splashed down safely in the Caribbean. Shortly after that mission he gave a talk on "Why I know there is a God." In this he explained why being in space confirmed his faith in God.
I will share what he said with you next week.