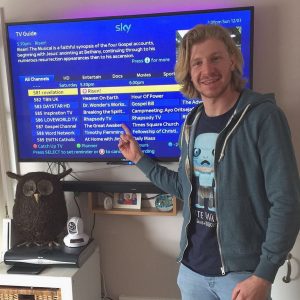 Last blog I said that it would have been my mother's birthday and that I would tell you her amazing testimony this week; however I would like to delay that for week more as I have some exciting news to share.
In the blog of February 16th I said that I had met with Dr Richard Kent, a Trustee and Presenter of the UK Christian Cable TV channel, Revelation TV and that we are hoping that Risen! The Musical will be broadcast on Revelation during the Easter season. Well I am delighted to announce that this has actually happened- Risen! The Musical is being regularly broadcast on Revelation TV- Sky 581 Freeview HD 250 and Freesat 692.
Todays featured pic shows Benny Bright of the London Touring Cast who plays Peter, proudly showing the next broadcast which is this coming Saturday, March 18th at 5.30 pm (immediately after the Ireland v England Six Nations Rugby match) Risen! Is also being broadcast on Thursday March 23rd and 30th both at midnight. We are waiting on the next edition of Revelation Times to see if it is also being scheduled for broadcasts in April. I am hopeful that it will be as people have been ringing Revelation to obtain my phone number to say how much they have enjoyed it and to order DVDs – one lovely lady called Sheila ordered 25 to send to friends and family, including some in Australia.
The disappointing thing is that Virgin Media do not have Revelation TV as part of their channel options. I rang Virgin to complain and soon will be knocking on Sir Richard's door!
If you are making up your mind whether or not to watch a broadcast on Revelation TV then please have a look at this short extract to help you decide
So next week how my mum became a Christian aged 101!