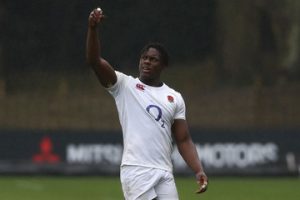 "Because of Your Grace" featuring Harun Kotch from the album "The Season of Singing" recorded and produced by Ross Gill
I remember full well being concerned with the names I expected to be called when my friends found out that I had become a Christian. "Bible basher" and "Jesus freak" are two names that spring to mind. I certainly remember that being a Christian was not considered cool by the people I associated with. However to my surprise in turned out that there was no need for me to be concerned as I don't remember any name calling (well not to my face anyway) and if there was -so what?
Nevertheless in my blog I have often drawn attention to people who are generally regarded as cool and who are also Christians- for example Bear Grylls, Usain Bolt and Jürgen Klopp. Today I would like to highlight another -the Rugby Union player Mara Itoje.
Maro was born in England to Nigerian parents. He made his England Rugby Union debut in 2016 and his 12 caps have included two Six Nations titles – including a Grand Slam in 2016 – plus a 3-0 series whitewash of Australia down under last summer. He has just been selected for the British and Irish Lions Tour of New Zealand this summer. At 22 he will be the youngest tourist.
In a recent interview with the BBC Maro talked of his Christian faith. He said
I feel as if everything I have – everything I have been fortunate to have been given -and the position I am in is a result of God.
Everything I am doing is not through my power but is through God's power.
I am very fortunate and very happy that God has put me in this position. For me it is about giving the glory and the praise back to Him.
Maro is six foot five inches tall and weighs 18 stone and 4 pounds so I for one am not going to argue with him!!
You can watch the short interview with Maro for BBC by clicking on this link: http://www.bbc.co.uk/sport/rugby-union/39838606