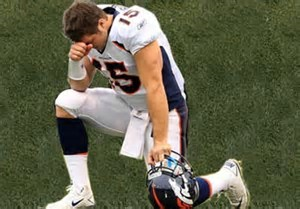 "Still in Tears" from the albums "Uplifted" and "His Story" featuring Lucy Stimpon- Maynard recorded and produced by Bob Ross (Uplifted) and Ross Gill (His Story)
As I said a couple of weeks ago, before featuring the Rugby Union player Maro Itoje, I often draw attention to people who are generally regarded as cool and who are also Christians. Others I have featured include Bear Grylls, Usain Bolt, Jürgen Klopp and Zach Johnson. Today I would like to highlight another, someone of whom to be honest, I had not heard because I do not follow American Football- Tim Tebow. Tim gave the brilliant interview featured today and also began the phenomena now named after him – "Tebowing."
Here is an explanation taken from extracts from Wikipedia:
Timothy Richard Tebow (born August 14, 1987) is a former professional American football player, playing quarterback. He played college football for the University of Florida, winning the Heisman Trophy in 2007 and appearing on BCS National Championship-winning teams during the 2006 and 2008 seasons. Tebow was selected by the Denver Broncos in the first round of the 2010 NFL Draft and spent two seasons with the team. He also played for the New York Jets in 2012. Additionally, he had preseason stints with the New England Patriots and the Philadelphia Eagles in 2013 and 2015 respectively
"Tebowing" is a neologism for the act of kneeling on one knee in prayer specifically with one's head bowed and an arm resting on the one bent knee, when kneeling, a form of genuflecting. It is derived from Tebow's propensity for kneeling and praying. The origin of the phrase is credited to fan Jared Kleinstein, who posted a picture with friends on Facebook, in which they mimicked a pose of Tebow following the Broncos' comeback overtime victory over the Dolphins on October 23, 2011. The popularity of the picture led Kleinstein to set up a website showing pictures submitted by people depicting various interpretations of Tebowing all over the world. After two-and-a-half months, the site received 20,000 photograph submissions and 20 million page views from 2 million unique visitors. The New York Times wrote "it can be hard to tell whether [people tebowing] are celebrating or mocking [Tebow] for his virtuous ways." Pittsburgh mayor Luke Ravenstahl "tebowed" as part of a bet with the mayor of Denver following the Broncos playoff victory over the Steelers in 2012. On October 9, 2012, Tebow was awarded the trademark to Tebowing after winning a legal battle with two fans who had expressed interest in trademarking the name.
In December 2011, the life-sized wall graphics company Fathead released a "Tebowing" sticker that became the company's best-selling product in two days.
Tebowing was included as a feature in the Madden NFL 13 video game
I am not what you think of kneeling to pray before, during or after a game or of crossing oneself or looking up to heaven after, for example scoring a goal, however please watch today's featured video clip. In it Tim explains how he wore references to biblical verses on his eye black and in the 2009 BCS Championship Game, he wore John 3:16 resulting in the verse being the highest-ranked Google search term over the next 24 hours, generating over 90 million hits.
"For God so loved the world that He gave His one and only Son that whoever believes in Him shall not perish but have eternal life. "