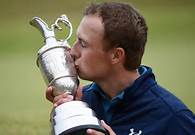 Jordan Spieth Winner of The Open Golf Championship 2017
Well the Portsmouth University Gospel Choir did not win Saturday's final of BBC1s "Pitch Battle" but they did do themselves proud with one judge choosing them and two other judges  choosing "All the Kings Men" who  went on to be runners up to the "Leeds Contemporary Singers. " PGC were still by far the best for me though and as Judge, Gareth Malone quite rightly said "just pervaded excitement and joy. "
Their performances brought back wonderful memories for me of when they sang in Risen! The Musical at the New Theatre Royal , Portsmouth  in November 2015.  The featured video has choir leader Heavilyn Sarpong (usually appropriately called Heaven) leading a rehearsal of a Risen! song "Jesus Oh Oh."  They are such lovely people and I think you can get an idea of their joy from the other video clip which is of them in the New Theatre Royal's dressing room after the final performance of Risen! The Musical – all singing "Jesus is my Lord." I am not sure what they will be doing next apart from enjoying a well- earned break from their University studies- but my love goes out to them all.
Not sure if you are into golf but the final round of this year's Open Championship at Royal Birkdale was fantastic. Jordan Spieth managed to turn round a pretty disastrous final round by going birdie, eagle, birdie, birdie, par, which for those who don't know golf too well is like scoring four cricket centuries in a row or four football hat tricks. (well not quite!)   The runner up was fellow American Matt Kuchar – he and Jordan have something in common apart from being great  golfers – they are both Christians.
My lovely wife, Caroline and I celebrate nine years of marriage on August 9th and when this blog comes out we will be on an early holiday to Bath for a couple of days. Hope you have a nice week too.