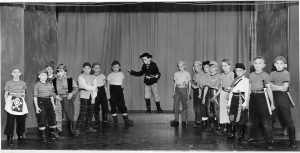 Martin Connor and Ken Shearsmith in "The Pirates of Portsmouth"

"Because of Your Grace"- featuring Harun Kotch from the album "The Season of Singing" recorded and produced by Ross Gill
A few weeks ago I had the great privilege of watching an absolutely fantastic version of George Gershwin's musical "Crazy For You." (It's the with "I've got rhythm, I've got music, I've got my girl – who could ask for anything more") The play was at the Guildhall School of Music and Drama and I cannot speak too highly of it – everything was of the highest quality – the 32 piece orchestra, the singing, the dancing, the acting, the costumes, the set – everything and it was all directed by my old school friend Martin Connor who is the Head of Acting at the Guildhall.
Back in August 2014 my blog featured the story of how I met Martin – extracts of which are below.
When, at the age of nine I moved from Gillingham in Kent to Portsmouth I went to the Northern Parade Junior Boys School. I have to say I did not like it at all – the teachers used the cane- something that I had not come across at all in the delightful Forge Lane Mixed School I attended in Gillingham.
Anyway one classroom teacher, Mr Thorpe was keen on amateur dramatics and each year would produce a show, usually one which he had written himself based on a Gilbert and Sullivan classic. I particularly remember "The Pirates of Portsmouth" in which I played a pirate "Mizzen Mast Martin" (I'll let you pick me out in the featured pic) The star was a guy called Martin Connor who was in my class and who had been one of the few people who had been nice to me when I first went to Northern Parade. Martin is stage centre in the pic with a hook for a right hand (only make believe!)
In those ancient times we had to sit the 11 + exam to determine whether you went on to Grammar School or Secondary Modern. In Portsmouth there was also a "half -way house" – the Portsmouth Technical High School.  Well to cut a long story short Martin and I found ourselves both at "The "halfway house".  We were also in the same form, the infamous 1B.  Martin went on to become Head Boy – I did not.
I knew Martin had gone on from school to pursue a career in acting, but on leaving school I had lost contact with him. When I was looking to cast for the role of John I needed someone who could both act and sing. All of Risen! is sung and I particularly needed someone who was expert in  recitative as this  holds the storyline together. I decided to try to locate Martin to see if he was still in the world of acting so I googled his name (what else!) and there he was Head of Acting at the Prestigious Guildhall School of Music and Drama in London.  I knew it was the same Martin as there was a pic of him on the Guildhall's website and he had not changed a bit. (spit!)
I emailed him and we met up at the "Coach and Horses" pub which is right opposite our old school. We talked and laughed non -stop for hours, picking up on all the old Tech School life as if it were yesterday. Anyway yes Martin did have someone in mind to play the part of John – Alex Knox. Alex had a degree in Music from Manchester University – he also had a Masters in Singing from Guildhall and was now taking the Guildhall's Masters Acting Degree- he would be perfect. So I took the train up to London to meet him at the Guildhall. I sang Alex the John parts in one of the Guildhall's studios, so I suppose it could be said that I have sung at the Guildhall School of Music and Theatre!  For a classical trained singer it would not have been normal to learn a part warbled by some PE teacher, but that is what happened with Alex singing the part in the Risen! CD.
Alex has become a great friend – my blog of November 24th 2016 features his appearance playing lead in the West End play " It's Easy To Be Dead."It was his birthday yesterday so Happy Birthday Alex!