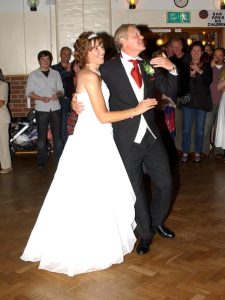 If you read this on Thursday, August 10th I will be on holiday with my lovely wife Caroline celebrating our ninth wedding anniversary. In fact our anniversary was yesterday on the 9th but we are still away – not too far though as Rosy, the fiancée of my son James is soon to give birth.
It was also Caroline's birthday on Sunday and it was great for the two of us to have a meal at Prezzo (yes with vouchers!) with my two wonderful sons, James and Chris and the lovely Rosy.
Although Caroline and I have been married nine years we have known each other more like twenty six years – why did we wait for so long to get married? Well that's a long story but may I take this opportunity to say how kind, compassionate, thoughtful, patient, loving and understanding Caroline is? She is also very brave as she has been suffering knee pain for over three years, enduring five operations for an anterior cruciate ligament knee reconstruction that has been a tale of misfortune. In addition to surgery, pain killers and masses of physiotherapy Caroline has had various other treatments which have helped but have not cured the problem. What has made things much worse is that she is a brilliant sportsperson who played cricket for Middlesex and hockey for SE England but, at present cannot even run- swimming being the only form of exercise she can undertake. Now if that was me and I could not play golf I would be like a bear with a sore head but to her great credit Caroline very rarely complains. She is to have a new procedure in a month or so and we are hoping that will help. What would be great is if she could run again and also teach- she has been doing a great job mentoring coaches that deliver PE in Primary Schools but it would be so good if she could do the teaching herself (she is a great teacher and children love her.)
The featured song "Where Would I Be Without You?" is one of Caroline's favourites and one of her favourite Bible verses is Isaiah 41:10 the words of which were prayed over me by Mr Milliken (Mr Mill's father) when I renewed my baptism vows on 18th May 1997. I also prayed them over Caroline when she renewed her baptism vows in the Solent on September 4th 2011.
So do not fear for I am with you,
Do not dismayed for I am your God,
I will comfort you and help you,
I will uphold you with my righteous right hand.