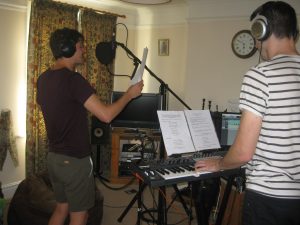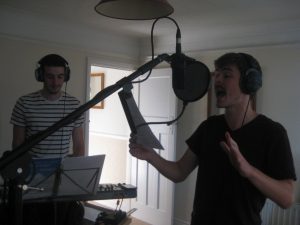 Joffy Girling and Alex Knox producing guide vocals for the Risen! sequel at Ken's house

Featured song for today is Allow His Loving Arms – featuring Lucy Stimpson- Maynard from the album "Uplifted" recorded and produced by Bob Ross.
I had the pleasure of Joffy Girling and Alex Knox stay with me for three days this week. Joffy, as I am sure you know, is the Musical Director for Risen! The Musical. He creates the arrangements produces the backing tracks and has done all the recording and producing – so yes Joffy is totally invaluable. Alex sang the part of John on the CD of Risen! He also sang at Holy Rood Church in a Risen! concert and the first stage production there. He featured in the blog of November 24th 2017 after starring in the West End play "It is Easy to be dead" – a performance for which he received an Oliver nomination – http://www.olivierawards.com/ Alex was introduced to me by my old friend Martin Connor (see blog August 3rd 2018) who is Head of Acting at the Guildhall School of Music and Drama; which is where Alex was trained in both music and acting.
Risen!- The Musical is doing extremely well – as I have previously mentioned the DVD has been broadcast on Revelation TV in the UK and on Alpha-Omega and Credo TV in Romania and Eastern Europe. It has also been translated into various languages including mandarin for DVD future sub titles.
We are also in the process of creating a Risen! The Musical theatre in education project to tour Primary Schools next Easter- that will require funding so more of that later. Also in the pipeline is a new CD featuring the Portsmouth University Gospel Choir -finalists in the BBC's "Pitch Battle" programme with Gareth Malone- but again more of that later.
I just wanted to flag up today that Joffy and Alex were with me to put down guide vocals for the sequel to Risen! The Musical. It is based on the Acts of the Apostles and traces the growth of the church after the Holy Spirit empowers the disciples at Pentecost. It will be third in the mustard seed trilogy of musicals after His Story- and Risen!
Acts (working title) is going to be a long project but an extremely enjoyable one – Joffy and Alex are quite excellent and what they produced this week simply filled me with joy- we meet again in a couple of weeks to hopefully finish Act one – so watch this space.
Caroline and I are off for a short holiday to Porto tomorrow – hopefully enjoying a bit of sun and the local tipple! Should be back in time for next week's blog though.