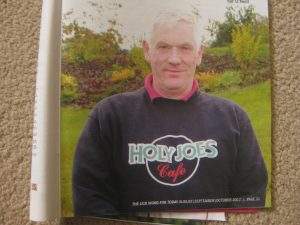 Be Set Free, from the His Story album, featuring the Mustard Seed Soul Band, recorded and produced by Ross Gill
Just back from a fantastic short break to Porto with my lovely wife Caroline.  What a beautiful city with such lovely people- We can highly recommend it.
Before leaving I read this story in "The Word for Today" and thought it would be good to share.
So these are the words of Sid O'Neil.
When I was 12 years old I went to live with my Grandmother. The house that we lived in had a lot of spiritual activity and as a child I used to hear and see spirits. That was my only experience of anything "spiritual." Years later I was working in a print factory and one of the bosses, Neil was a Christian.  I think I made his life a misery, as I used to tease him and try to embarrass him- I thought it was really amusing. I wondered why he always read his Bible, rather than the newspaper like the rest of us.
Although I knew there was a spiritual world (because of my childhood experiences) the only thing I did religiously was to go to the pub on a Friday night. One night a group of us were heading off for some drinks when we were involved in a horrible car accident- one of my friends in the car was killed. I was seriously injured and spent a long time in hospital with broken legs and broken back. I had a lot of time to think and blamed God for what He had done to me and my friends. When I got better I took off to a job in the Middle East. I made a real mess of things there, started drinking and ended up breaking my contract in order to get back to the UK. When I returned, Neil the supervisor from my old factory was now running his own busy printing firm and he was printing this little booklet called "Word For Today."
He offered my wife a job and one day when I went to pick her up the printing press was broken. Neil was distraught and at the point of tears as he could not find anyone to fix it and the "Word For Today" needed to be urgently printed. I don't know how but I looked at the machine and was able to fix it…. and the printing continued.  Even though I was not a believer I believe that God helped me to fix that machine.
Somehow I knew that I needed to be there working for Neil. It meant a 50% pay cut but I was drawn back there and I used to read " Word For Today" as it came off the presses. One day Neil gave me a CD with a man singing a song from Psalm 23 and as I sat there alone in the factory I raised my hands and I was crying. I knew that God was speaking to me and I knew that if I asked for forgiveness God would set me free and He would heal me of all my pain.
That was the day I stopped running from God and since then I have not looked back. Today I am working with the Christian Motorcyclists Association. I can't say how thankful I am to God for all that He's done in my life. He fixed my hurt and pain. He stopped me from running and He's given me hope. In my life God has worked through so many different means- through Neil, through the bikers, through the UCB "Word For Today" and through everyone who prayed for me.
What a great story – I will tell you more of "Word For Today" next week.