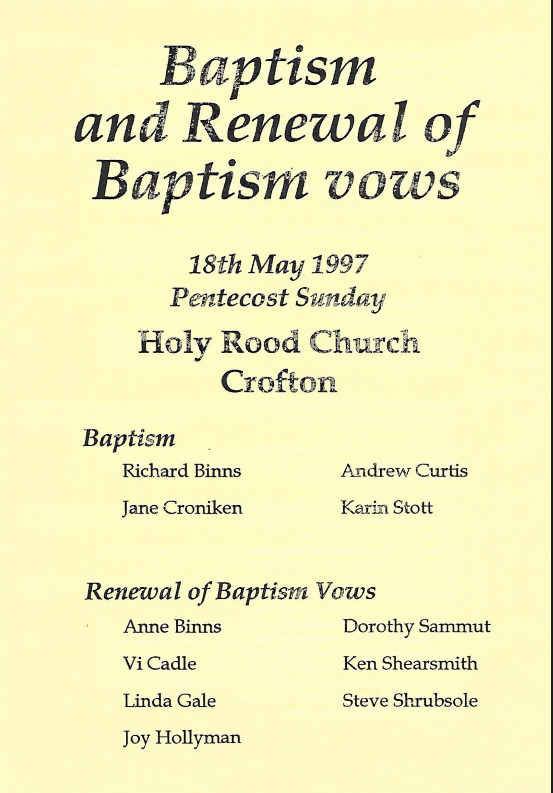 "In Times of Trouble" featuring Lucy Stimpson- Maynard from the album "I Look Up To The Heavens" recorded and produced by John Hodgkinson
I was going to make last week the finish of my reminisces of Alpha. However on Sunday a lovely man named Ali, who is in the Alpha group that I am, at present helping, was baptised. I therefore thought that I would have one more week of reminiscing and tell you how I came to re affirm my own baptism vows. I am using extracts from blog post of April 17th 2014
Many years previously I had been invited by a member of my tutor group- Caroline Berridge I am pretty sure it was- to attend her baptism by full immersion at Holy Rood Church. As she came out of the tank dripping wet in what appeared to be her pyjamas I thought to myself "She is very brave -there is no way you'd catch me doing anything like that – I would be much too embarrassed."  Well as I have explained I became a Christian on Feb 22nd 1997 and not long after I read in the church notice sheet that there was an opportunity to be baptised by full immersion.  After a couple of quick enquires I discovered that you can't be baptised twice. I thought   "That's a relief I have escaped" – you see I had already been baptised (Christened) as a baby.  The trouble was shortly afterwards I found out that you can still re- affirm your infant baptism vows.
So I got this feeling inside me that made me think that this was something I should do even if I didn't fancy it.  I thought that as there is safety in numbers I would get others from my Alpha group to be baptised with me- the trouble was none of them wanted to.  So I came up with what I thought was a brilliant plan; I would go to the Holy Land and get baptised in the River Jordan just like Jesus.  With this great plan I went to my mentor, Mr Mill's dad, Mr Milliken expecting him to be overjoyed with my idea. Oh no he was not overjoyed at all – Mr Milliken made it quite clear that I had to make a public testimony of my faith to my friends and family and in my local church.  My mind flashed back to Caroline Berridge's dunking – this was going to be so embarrassing but I could see no way out. So I went to see the Vicar, Michael Christian- Edwards to tell him that I wished to reaffirm my baptism vows and that I was prepared (prepared but not happy) to give a testimony.
Holy Rood church was packed- I felt the water in the specially brought in tank – it felt less than tepid.  I received encouragement from Mr Mill and his dad, who was going to be my special helper, ready with a towel for me when I emerged; giving what I was sure would be the appearance of a drowned rat.
Anyway before being "dunked" I had to give a testimony – I thought the best thing would be to tell how my fear of death had been taken away (or pretty much taken away) after I had become a Christian.  Michael Christian- Edwards had pointed out to me that The Book of Hebrews tells us that Jesus has freed all those who were held in slavery by the power of death- so I quoted this. I also talked about how one day I had gone on my own into Holy Rood after dark and a section of the beautiful stained glass window at the far end was illuminated. The illuminated part was that of Jesus portrayed as the Good Shepherd.  I remember staring at this image for some time and feeling really comforted. When I asked how the window had been illuminated no one really had an answer – a timing light was supposed to come on but that was to light the window to the outside – not inside.  There may well be a logical explanation but I prefer to believe it was a blessing from God to reassure me that He would always look after me in the same way as a Shepherd looks after his sheep- even when I got lost or went astray.
After I gave my testimony (which was quite long) someone shouted out "Hallelujah" I remember feeling really chuffed about this – I know I probably should not have felt proud but I did.
So on May 18th 1997 into the "tub" I went – I was taken backwards into the water by Michael Christian -Edwards.   In the end I wasn't in the least bit embarrassed  coming out drenched -in fact  I was exhilarated – Mr Milliken was there with a towel and these words for me "So do not fear for I am with you be not dismayed for you are my God I will comfort you and help you I will uphold you with my righteous hand" I later found this to be from the Book of Isaiah Chapter  42:11 These words have remained especially dear to me and when my lovely wife Caroline was baptised in the sea in September 2011  I  said the same  words over her.  They also form part of this week's featured song "In Times of Trouble" Somehow, and I cannot remember the story exactly, this song was adopted by the son of the Chief of The Karen tribe of Myanmar (Burma.) These people have long been persecuted.
Other people said prayers out loud for me and I particularly remember Paul Knight, who had first invited me to the Alpha course pray that I would become a "Fisher of men"  I felt humbled and joyful – it was a wonderful, unforgettable experience.