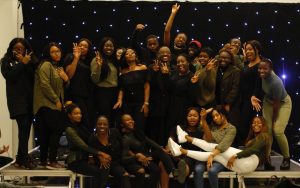 Mustard Seed Songs and The  Portsmouth Gospel Choir all say HAPPY CHRISTMAS!
"In The Beginning Was The Word" from "His Story" featuring the Lord Is Truth Gospel Choir – unreleased
Not a very long blog today but a very important one as I have three big announcements to make:
The long awaiting debut CD from the Portsmouth Gospel Choir – entitled "How Great Are His Signs" is now available for £5.99 including P&P from mustardseedsongs.org.uk You will probably know that proceeds from sales will help build the Risen Christ Central Chapel in Cross River State, Nigeria.
In addition to monies raised from sales of the CD we also need donations as £2500.00 needs to be raised to complete the building of the 200 capacity Chapel. You can access the My donate page by visiting mustardseedsongs.org.uk Thank you so much for your support.
All at Mustard Seed Songs wish you a very happy Christmas and a most prosperous New Year.