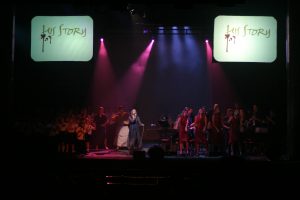 Jassica Castillo- Burley and the Mustard Seed Soul Band performing in "His Story" at the Kings Theatre, Southsea.

"Its From the Lord" featuring Jassica- Castillo- Burley and the Mustard Seed Soul Band from the albums "His Story" and "Heart and Soul" recorded and produced by Ross Gill
All at Mustard Seed Songs trust that you had an enjoyable Christmas.
Please don't forget that the long awaiting debut CD from the Portsmouth Gospel Choir – entitled "How Great Are His Signs" is now available for £5.99 including P&P from www.mustardseedsongs.org.uk You will probably know that proceeds from sales will help build the Risen Christ Central Chapel in Cross River State, Nigeria. In addition to monies raised from sales of the CD we also need donations as £2500.00 needs to be raised to complete the building of the 200 capacity Chapel. You can access the My donate page by visiting www.mustardseedsongs.org.uk
A couple of blogs ago I was making the point that in God's eyes small acts of obedience are big things. When you joyfully do little things like they are big things then God will do big things like they are little things. I quoted the words of a proverb "For Want of a Nail" and also a Mustard Seed song "We Can't The World On Fire." I recently read the following poem from an unknown author in "The Word For Today" and thought it would be good to share today as it has the same sentiment:
One song can spark a moment,
One flower can wake a dream,
One tree can start a forest,
One bird can herald spring.
One smile begins a friendship,
One handclasp lifts a soul,
One star can guide a ship at sea,
One word can frame a goal.
One vote can change a nation,
One sunbeam lights a room,
One candle wipes out darkness,
One laugh can conquer gloom.
One step can start a journey,
One word can start a prayer,
One hope can lift our spirits,
One touch can show you care.
One voice can speak with wisdom,
One heart can know what's true,
One life can make a difference…
You see it's up to you…..
HAPPY NEW YEAR TO YOU ALL