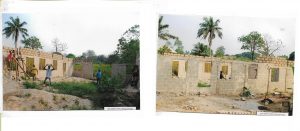 Building the Risen Christ Central Chapel in Cross River State Nigeria begins!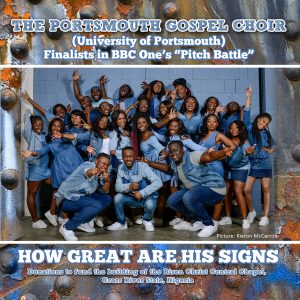 "How Great Are His Signs" EP featuring the Portsmouth Gospel Choir
"Lean on Me" ( Bill Withers) featuring the Mustard Seed Soul Band from the album "Heart and Soul" recorded and produced by Ross Gill
So this early in the year Mustard Seed Songs are already involved in a number of exciting ventures
1) Writing the sequel to Risen! The Musical which has a working title of ACTS – the guide vocals are nearly finished so watch this space!
2) Building has started of the Risen Christ Central Chapel in Cross River State, Nigeria (see featured pics) We are still need donations if the work is to be completed so if you would like to help please visit https://mydonate.bt.com/events/portsmouthgospelchoir
3) Our CD "How Great Are His Signs" featuring the amazing "Portsmouth Gospel Choir" is now available to purchase at £5.00 from mustardseedsongs.org.uk Proceeds again going to building the Risen Christ Central Chapel.
4) "Fresh off the press" -we have a confirmed date for the Portsmouth University Choir to be in concert – Saturday March 3rd at The Kings Church, Somers Road Portsmouth. More details next week but special guests will be C. J Edwards who featured in "The Voice" and members of the "London Touring Cast" from "Risen! The Musical."
5) Members of the "London Touring Cast" are available for the Gospel Choir Concert because they will be in Hampshire and West Sussex touring 15 Primary schools from February 26th – March 16th with our Risen! The Musical "Theatre in Education" project. We still have five free dates so please contact me on ken@risenthemusical.com if you know of a school that would be interested in booking our one hour version of Risen! written especially for 7- 11 year olds. As part of a day long visit to schools the" London Touring Cast" will also deliver musical theatre workshops i.e. singing, acting and dance. We have applied to numerous charitable trusts for funding, one being the "Grant Foundation" which is linked to the toy shop "The Entertainer." You may know that the owner, Mr Gary Grant is a strong Christian, which is why "The Entertainer " does not open on a Sunday and war type games are not sold. We are particularly hopeful that Mr Grant will support us as one of the Risen! cast, when not acting, works in the Hartlepool branch of "The Entertainer. " His name is Andrew and he has been granted one month's unpaid leave in order to play the part of the disciple John. We are hoping that this might just be the sort of thing that is needed to motivate Mr Grant into helping us.
I should be able to let you know more next week.