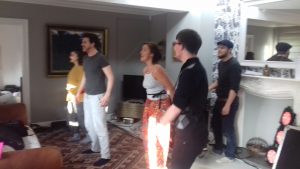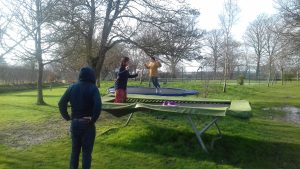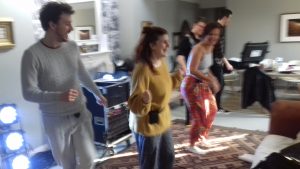 The London Touring Cast rehearsing (and chilling)

Risen! from the album Risen! The Musical featuring the Original Cast recorded and produced by Joffy Girling
Well it is a short blog this week as we are in the middle of rehearsals for the forthcoming tour of Risen! The Musical Theatre in Education tour of 17 schools in Hampshire and West Sussex. The fabulous London Touring Cast have been hard at work rehearsing in a country location near Chichester. Joffy our Musical Director and Adam our Technical Director were with them today setting up tech equipment that includes brand new face mics, lighting, PA system and backing tracks. Meanwhile Darren is up in Coventry putting the finishing touches to the stage set and that is one reason why this blog is a tad short – I have to leave at 5.00 am in the morning to pick it up!
Of those 17 schools 15 are Primary but the other 2 make up the largest Secondary school combo in the country – Bay House and Brune Park.
While this is happening interest is also mounting for the Portsmouth Gospel Choir concert at Kings Church on Saturday, March 3rd – you can get tickets from www.tinyurl.com/PGCconcert. Special guest include the London Touring Cast who will be performing extracts from Risen!
Quote for the week
Humility is not thinking less of yourself – it is thinking of yourself less