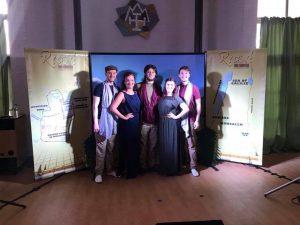 "Ready to go  before the first ever appearance of Risen! The Musical Theatre in Education"
The first Risen! The Musical Theatre in Education performance took place at St Faiths Church of England School, Winchester on Monday of this week. The performance was followed by the 5 actors delivering workshops on musical theatre. We got some great feedback such as this comment from the Head teacher:
The whole set up was very professional. The actors and crew prepared everything for the performance and kept to their timings. They were all very enthusiastic and presented the musical with great confidence. The children and staff thoroughly enjoyed the performance and they were keen to join in at appropriate times. It was an uplifting performance of the Easter story and put things in context for the children. It was a great way to tell the Easter story.
The workshops were very well run by the five actors. They were encouraging and kept things going at a good pace. The children really enjoyed being taught by actors and rose to the challenge of presenting a short performance with singing and dancing at the end of their workshop. We will be using the two performances in our Easter Service. Thank you for a great experience!
One of the children summed it all by saying " I loved it!"
The next day we were in another Winchester Primary School – Western and performed for 300 children- it was again a great success (see video clip.) Yesterday we were in Gosport – in Brune Park Secondary School in the morning and Bay House Secondary in the afternoon playing to a combined audience of 750 from Year 7. We were a bit weary of performing to older children but again both performances went down a storm. It is such a shame that today's performance at The Kings School Fair Oak has had to be postponed because the school, like many others, is closed because of the forecast heavy snow. We hope we can somehow re-arrange this visit but we are fully booked all the way up to the end of the tour on March 16th.
Of course Mustard Seed Songs are also organising the Portsmouth Gospel Choir concert at Kings Church on Saturday, March 3rd – that is going to be really great. You can get tickets from www.tinyurl.com/PGCconcert. Special guests include the London Touring Cast who will be performing extracts from Risen!
Quote for the week
"Don't call if failure, call it education. Now I know what does not work!
Thomas Edison