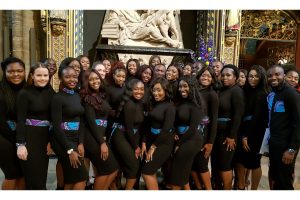 Portsmouth Gospel Choir perform for Her Majesty The Queen at Westminster Abbey
"The Season of Singing" featuring Lucy Jane Rutherford from the album "The Season of Singing" recorded and produced by Ross Gill
On Saturday March 3rd Mustard Seed Songs produced the Portsmouth Gospel Choir (PGC) in concert at Kings Church, Portsmouth and I hope this will soon be available for you to view on You Tube.
On Monday March 12th PGC performed for the Queen and other members of the Royal Family at the Royal Commonwealth Service in Westminster Abbey.
The choir also performed in front of the Prime Minister, the Commonwealth Secretary-General, High Commissioners, Ambassadors and Commonwealth dignitaries and around 800 school children.
The service was broadcast live on BBC One
Band Coordinator, Omolade Taiwo, aged 20, said: "We are really honoured. It's amazing and surreal.
"It's all God. We've done absolutely nothing to deserve this, we're just a university gospel choir. Genuinely we sing, we have fun, put videos online and then we get an opportunity like this."
When the group were told the news, they said there was 'lots of screaming' with choir members 'falling to the floor'.
Last year the group were semi-finalists in BBC One's Pitch Battle. They described the support from the University and local community as 'incredible' and said they 'couldn't have asked for anything more'.
As well as the Portsmouth Gospel Choir, there were performances from Ngāti Rānana, the London Māori Choir and Liam Payne.
The Portsmouth Gospel choir performed a stunning rendition of Bridge Over Troubled Water by Simon & Garfunkel and their performance was shared by the Royal Family on Twitter
About The Commonwealth Service 
The Commonwealth Service is the UK's largest multi-faith celebration and takes place annually on the second Monday in March at Westminster Abbey. The one hour service features a mixture of testimonies, readings, and musical performances. Each year the Service is based around an annual Commonwealth Theme.
The Royal Commonwealth Society organises the Service on behalf of a group of Commonwealth organisations, known as the Council of Commonwealth Societies (CCS).
Commonwealth Day has been celebrated across the Commonwealth, every year since the 1970s. In recent years, there has been a shift away from celebrating a single day towards celebrating Commonwealth Week, with Commonwealth Day at its focus on the first day. The aim is to celebrate the unity, diversity and links of the modern Commonwealth and to foster greater understanding of the Commonwealth's achievements and role, particularly among young people.
You can watch the performance of the Portsmouth Gospel Choir via this link from 58 mins 25 secs:
https://www.bbc.co.uk/iplayer/episode/b09vp5z4/a-service-of-celebration-for-commonwealth-day-2018#
Quote for the week;
"Happiness is not getting what you want – it is enjoying what God has given you."
The Word For Today