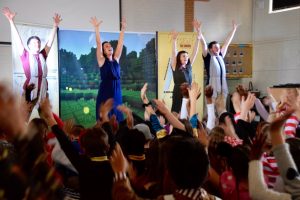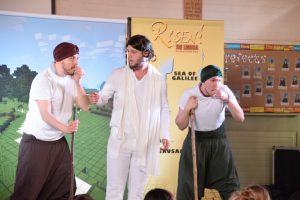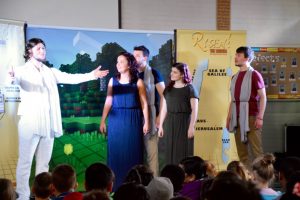 The Name That's On My Lips featuring Lucy Stimpson- Maynard from the album " Where Would I Be Without You?" Recorded and produced by Ross Gill
The Easter Tour of Risen! The Musical Theatre in Education started at St Faiths CofE Primary School, Winchester on Monday, February 26th and seventeen schools later finished on Friday, March 16th at Leesland CofE Primary School, Gosport .
I cannot thank enough the amazing cast of Max Panks (Jesus) Caroline Wetherelt (Mary Magdalene) Katie Forge (Joanna) Rebecca Davis (Mary Magdalene for final week) Mikey Wooster ( Peter, Judas, Thomas and Cleopas' friend) and Andrew Dovaston (John and Cleopas.) Together with a fantastic technical team of Joffy Girling (backing tracks) Adam Kemp (sound and technical ) and Darren Bovis- Coulter (stage set design and construction) we had a fantastically successful pilot tour which we trust will lead to many more tours in the future.
The response of the children was fantastic and also that of the teachers- quotes include "Absolutely fabulous" "Superb" "Wow I don't know what to say" and Risen! blew my socks off!
The most comprehensive testimony came from Rev'd Kathy Hicken – Priest in charge and pioneer of St Marks Church, Southampton who organised Risen! to come to St Marks Primary School, Southampton.
Thank you so much for the amazing experience that Risen the Musical was at St Mark's School! They absolutely loved it. The quality of the production was top-class, the music, set, songs, acting, singing, all of it was brilliant. The children loved the minecraft themed staging, the songs and the bits of humour too. The afternoon musical workshop sessions were also utterly brilliant and the kids had such a wonderful time, and learnt so much. The actors were fabulous in the way they dealt with the children and led those sessions, and got everyone involved. In the end they got the teachers and staff to perform as well, which everyone loved.
Now all we need is a sponsor and then we can start organising the Easter 2019 tour! Please get in touch if you know someone who would like to underwrite a four week tour to the tune of a mere £10k?
Quote for the week;
"An opinion is something you hold – a conviction is something that holds you."
Every Day With Jesus