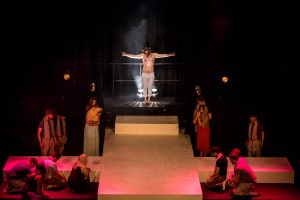 The Crucifixion from Risen! The Musical – New Theatre Royal, Portsmouth
"A Crown Today A Cross Tomorrow" featuring Lucy Stimpson-Maynard and Lucy Jane Rutherford from  His Story Live (not released) recorded and produced by Ross Gill
With today being Maundy Thursday and tomorrow Good Friday I thought it a good idea to share why Easter does not occur, like Christmas, on the same date each year. So below is a comprehensive explanation taken from an article in The Economist
Unlike other Christian holidays, Easter can move around a lot from one year to the next, its date sometimes varying by more than a month. It falls between March 22nd and April 25th for the Western church, and between April 4th and May 8th for the Eastern church. Why does Easter move around so much?
According to the Bible, Jesus held the Last Supper with his disciples on the night of the Jewish festival of Passover, died the next day (Good Friday) and rose again on the third day (the following Sunday). The beginning of Passover is determined by the first full moon after the vernal equinox, which can occur on any day of the week. To ensure that Easter occurs on a Sunday, the Council of Nicaea therefore ruled in 325AD that Easter would be celebrated on the Sunday after the first full moon on or after the vernal equinox. But there's a twist: if the full moon falls on a Sunday, then Passover begins on a Sunday, so Easter is then delayed by a week to ensure that it still occurs after Passover. To confuse matters further, the council fixed the date of the vernal equinox at March 21st, the date on which it occurred in 325AD (though it now occurs on March 20th), and introduced a set of tables to define when the full moon occurs that do not quite align with the actual astronomical full moon (which means that, in practice, Easter can actually occur before Passover).
The earliest possible date for Easter occurs when the notional full moon falls on March 21st itself, in a year in which March 21st falls on a Saturday. Easter is then celebrated on Sunday March 22nd, a rare event that last happened in 1818 and will next take place in 2285. The latest possible date for Easter occurs when there is a full moon on March 20th, so that the first full moon after March 21st falls a lunar month or 29 days later, on April 18th. If April 18th falls on a Sunday, then the special Sunday rule applies, and Easter is celebrated the following Sunday, or April 25th. This last happened in 1943, and will next happen in 2038. There is therefore a 35-day window in which Easter can fall, depending on the timing of the full moon relative to March 21st.
Eastern Christianity applies the same basic rule but uses the older Julian calendar, which is currently 13 days behind the Gregorian calendar, giving a different range of possible dates.
HAPPY EASTER FROM ALL AT MUSTARD SEED SONGS AND RISEN! THE MUSICAL
Quote for the week
"We must be content with what we have but not with what we are."
The Word for Today