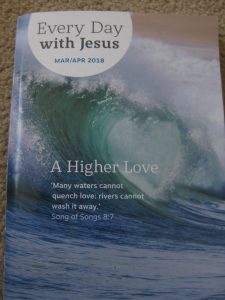 "My Beloved King" featuring Lucy Stimpson- Maynard from the album "Uplifted" recorded and produced by Bob Ross
One question that understandably is so often asked is – "If there is a God and He is good – why does He allow so much suffering in the world? I have on numerous occasions attempted in this blog to shine some light on this most challenging of topics- the last time being January 26th 2017. There is, in fact no easy answers – just "jig saw pieces" that when put together may help. I recently read in the daily devotion Every Day With Jesus (EDWJ) what I felt to be another helpful "jig saw piece" and so will, in the next few weeks, copy extracts from "A Higher Love." Incidentally the words on the front of the cover "Many waters cannot quench love; rivers can't wash it away." Song of Songs 8:7 are used in the song "My Beloved King" which Mary sister of Martha and Lazarus sings to Jesus in Risen! The Musical. It is today's featured song.
In today's extract Selwyn Hughes the author of EDWJ makes it clear how difficult this subject is:
We move on to try to answer the question: If God loves us so very much, why is it that He allows so many seemingly bad things happen to us? I have found this to be the one question more than any other that troubles the hearts of so many. Time and time again I have sat beside a weeping man or woman in whose life something tragic has happened and heard them say: If God loves me why did He let this happen?
We have all lived through events that cause our hearts to ache- at such times who has not cried out: God why did You allow this to happen? Do You really care for me? These are the many questions on which many a soul has been shipwrecked leaving them grounded on reefs of pain and doubt.
No minister or counsellor finds it easy to answer these questions – one man that I know left the Christian ministry because he could not come up with an adequate answer to the question why does God allow bad things to happen to good people. If only we understood His heart more clearly….. to be continued.
Quote for the week
"Start where you are, take what you have and do what you can."
The Word for Today