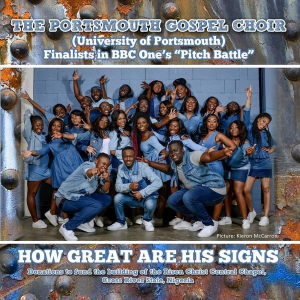 "This Is Not  Heaven" featuring Lucy Stimpson- Maynard from the album "Uplifted" recorded and produced by Bob Ross
First it is my great pleasure to announce that "How Great Are His Signs" the debut EP of the Portsmouth Gospel Choir is now available on- line from https://mustardseedsongs.hearnow.com/
This fabulous Gospel choir were finalists on BBC's "Pitch Battle" singing with Seal. They also recently performed for the Queen and Royal Family at Westminster Abbey. All proceeds from sales go to building the "Risen Christ Central Chapel" in Southern Nigeria- for more details of this amazing project please visit www.mustardseedsongs.org.uk
And now to continue sharing the thoughts of Selwyn Hughes from his devotion in Every Day With Jesus – "A Higher Love."
It is futile hiding our doubts about the goodness of God and attempting to deal with them though rationalisation such as believing that problems in life are caused by some sin that they have committed or that God is not able to know everything that goes on all over the universe and that some things happen in His children's lives that go unnoticed by Him.
Throughout the years I have found grief – laden questions such as: God why did You allow me to be born into a family that gave me no love? Why did You make me like this? Why did You allow so many bad things to happen to me? What will You allow to happen next?
If in the depths of our hearts we secretly believe that God did not protect us from bad things happening to us because He does not love us, then no matter how hard we try, we will fail to respond to His love and live life as God originally designed. Or to put it another way wrong beliefs about God will affect the way we feel about God, for how we think always influences the way we feel. So we have to learn to face doubts and bring them up and out. Living with doubts and fears will prevent us from entering into an intimate and passionate relationship with Jesus.
We are made in such a way that we cannot give ourselves to someone we do not trust. This is a simple, empirical fact. Don't let yourself be found in the category of those whose Christian lives have been sabotaged on the reefs of inner doubts and distrust………….to be continued.
Quote for the week
"Work as if all depended on you and pray as if all depended on God"
Every Day With Jesus