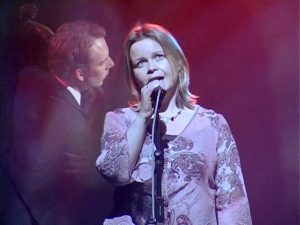 Lucy Stimpson Maynard (who co -wrote "Restore Us Lord God Almighty") at a Mustard Seed Songs concert with James Oliver on cello
Restore Us Lord God Almighty ( Shearsmith/Maynard) featuring Lucy Stimpson-Maynard from the album "Where Would I Be Without You"? Recorded and produced by Ross Gill
After a break of a couple of weeks let me please return to continue sharing the thoughts of Selwyn Hughes on the question "Is God Good"? Below is another extract taken from his devotion in Every Day With Jesus – "A Higher Love."
It is not too difficult to believe that the wounds and hurts we receive in this life are the result of our choices and thoughtlessness, but when we are told that certain things we could label as "tragedies" are brought about directly by the hand of God we feel perplexed or confused.
When Jesus and His disciples were walking on the road they met a man who was born blind. His disciples asked Him "Rabbi, who sinned, this man or his parents that he was born blind"? "Neither this man or his parents sinned" said Jesus but this happened so that the work of God might be displayed in his life." ("made manifest KJV) Having said this Jesus spat on the ground, made some mud to put on the man's eyes, and sent him to wash in the Pool of Siloam. When he did so he was healed.
What did He mean- that the works of God may be made manifest? Ah here we are in the presence of mystery. The answer to that is still to be revealed. Theologians struggle to explain how God's character is revealed through the seemingly bad things that he allows to go on in this world, but no one has found adequate answers. How God works through the wounds, the losses, the suffering and the tragedies that come into our lives is something we will never know fully on this earth. We are big enough to ask the questions but not big enough to understand the answers. And so we groan and we wonder, but in our groaning and wonderment there is really no better context for trust.
Quote for the week
"What doesn't destroy us makes us stronger".
The Word for Today