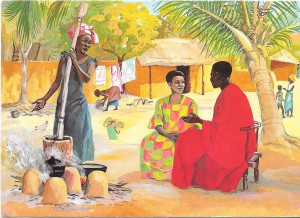 Mary and Marha with Jesus – Uganda card from Roberta to Ken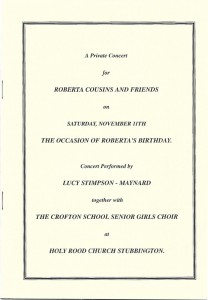 Mustard Seed Songs concert for Roberta at Holy Rood
"Lord I Come to Bathe in Your Glory" from album "Love is the Way" featuring Lucy Stimpson – inspired by a devotion from Selwyn Hughes in "Every Day With Jesus"
When on Monday I walked into my home group "The Way", Gill one of the members said, pointing to a woman sitting on a sofa, "Come and meet our new home group member." That came as a bit of a shock as I was not expecting a new member – however it was an even greater shock when I recognised the person to be Roberta Cousins – not a new home group member at all but a very old friend who I had not seen for many years. She was on a short break from Uganda
I could not do Roberta's amazing story justice here but will draw from my blog of March 2015 to tell you that Roberta overcome agoraphobia and a lack of support from the elders of her church to obey what she knew to be God's call and to go to Uganda on her own – not knowing anyone and with no planned place to stay.  Now, after many years and despite continuous bouts of malaria Roberta is still in Uganda preaching, evangelising and blessing the local people of Kampala and the surrounding villages- a true "Woman of God."
On 11th of November 2000 Roberta gave me a book in which to write thoughts and verses – the book had a card inside from Uganda with a picture on the front  (see featured pic) of  Martha and Mary with Jesus – Mary at His feet with Martha looking on irritated as she prepares Sudza en.wikipedia.org/wiki/Sadza  Inside Roberta wrote "A Word from the Lord" for me – it is something that I often turn to for encouragement when things don't seem to be going well – most especially in all that is connected with Mustard Seed Songs. Here is an extract – it's the part that begins "You must remain in me " that I need to  constantly remind myself.
Though you I will heal the broken hearted. I will bring hope to the desolate, I will strengthen the weak. I will comfort the lonely, giving my love to others as I give my love to you. You must remain in me for I am the vine that feeds you, without me you can bear no fruit. You did not choose me but I choose you and appointed you to go and bear fruit – fruit that will last. Then the Father will give you whatever you ask in my Name- this is my command love each other.
It is from the book that Roberta gave me that I have been taking quotes for this blog.
Quote for the week:
If you can worry continually you can pray continually – just change your focus.
The Word for Today