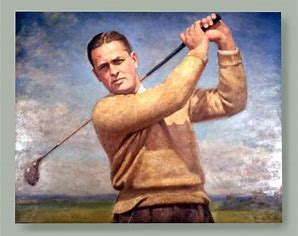 "Put Your Hand In the Hand Of God" featuring Lucy Stimpson- Maynard from the album "Precious" recorded and produced by Ross Gill
Music and sport have always played such a great part in my life. I have so enjoyed ,in my earlier years, playing and coaching all manner of sports but in particular cricket, football and basketball. Now I really enjoy golf which brings me to the point of today's blog. I love it when I see displays of sportsmanship and in the blog of August 25th 2016 championed Andrew Flintoff's gesture to Brett Lee in the Ashes match of 2005.Unfortunately sportsmanship is seen less and less these days- Neymar in the recent World Cup rolling around in " agony " epitomises this. Cricket once a bastion of fair play is now tarnished with "sledging" even rugby has its "dark arts." I think however that golf still holds the higher moral ground and I was reminded of this when reading "The Word For Today" last week as It recounted a story of Bobby Jones in the 1925 US Open Championship
Jones' approach shot to the 11th hole's elevated green fell short into the deep rough of the embankment. As he took his stance to pitch onto the green, the head of his club brushed the grass and caused a slight movement of the ball. He took the shot, then informed his playing partner Walter Hagen and the USGA official covering their match that he was calling a penalty on himself. Hagen was unable to talk him out of it, and they continued play. After the round and before he signed his scorecard, officials argued with Jones but he insisted that he had violated Rule 18, moving a ball at rest after address, and took a 77 instead of the 76 he otherwise would have carded. Jones' self-imposed one-stroke penalty eventually cost him the win by a stroke in regulation, necessitating a playoff, which he then lost. Although praised by many sports writers for his gesture, Jones was reported to have said, "You might as well praise me for not robbing banks".
"The Word for Today" talked about integrity and how Jones believed that losing his integrity was not worth winning the Open for. The USGA's sportsmanship award is named the Bob Jones Award in his honor.
I was interested to discover that Bobby Jones founded and helped design the Augusta National Golf Club where the world famous Masters Tournament is played for the coveted "Green Jacket." I was also interested to discover that in 1948, Jones was diagnosed with syringomyelia, a fluid-filled cavity in the spinal cord that causes crippling pain, then paralysis; he was eventually restricted to a wheelchair. He died in Atlanta on December 18, 1971, three days after converting to Catholicism. Jones was baptized on his deathbed by Monsignor John D. Stapleton, pastor of the Cathedral of Christ the King in Atlanta.
Jones was inducted into the World Golf Hall of Fame in 1974.[
Quote for the week:
The church is not perfect that is why people like us are welcome there.
The Word for Today