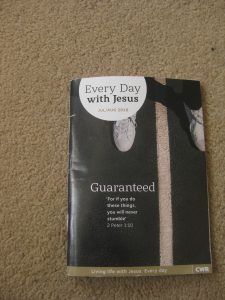 "Every Day With Jesus" – "Guaranteed" originally written by Selwyn Hughes
"How Can I Love You More"? featuring Lucy Stimpson- Maynard from album "Love is the Way" recorded and produced by Bob Ross
A couple of weeks ago I shared a song that I had recently written for the sequel to Risen! The Musical -which has a working title of "The Acts of the Apostles- Part One – Fire!"
The song is called "Nothing Can Separate Us From Christ's Love" and on Friday of last week I noticed that Selwyn Hughes in his daily devotion ""Every Day With Jesus" "Guaranteed." referred to the same quote from Romans 8:35. I therefore thought that today I would share with you extracts from Selwyn's devotion, the theme of which is the qualities that Peter urges us to acquire in 2 Peter 1:5-7 – that is faith, goodness, knowledge, self -control ,perseverance, godliness, brotherly kindness and love
We come now to the last quality on Peter's list- love (2Peter 1;7) It is no surprise that the ladder of Christian virtues should end in love. Warm friendliness is wonderful but the love that Peter says we should make every effort to add to our faith is a reflection of that agape love that God has shown to us.
How different is God's love from the natural love that we find in our hearts! The love we offer others is conditional love- the kind that says "Love me and I will love you." "Do this and you can count on my love." This love is not like the love of God. We are not loved by God for what we do and no failure can rob us of His love. While sin can cause a break in the relationship, it does not stop God loving us.
This love is initiated in heaven. "We love because He first loved us" (I John 4:19) That is the great thing about agape love- it initiates. This is, in part why we cannot explain why God loves us. To explain it would require Him to love us for some reason but, as we have seen, He loves us for ourselves alone. He chose to love because He is love. Nothing in us gave rise to His love and nothing in us can extinguish it. It is love without condition and it is love without end.
IN Jeremiah 31; 3 we read "I have loved you with an everlasting love." When we think about this kind of love the poverty of our own love comes over us and we realise our love is not like the love of God. How amazing to know we are loved everlastingly. The apostle Paul rejoiced in this truth when he cried "Who shall separate us from the love of Christ"? (Romans 8:35) Divine love is love without reason and without end.
Quote for the week:
Pain is inevitable misery is optional.
The Word for Today