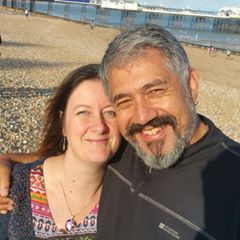 Darren and Nikki Bovis-Coulter
"Because Of Your Grace" featuring Harun Kotch from the album "The Season of Singing" recorded and produced by Ross Gill
Mustard Seed Songs have been wonderfully blessed in being able to call on the help and support of so many people who are brilliantly gifted. I often mention the amazing Joffy Girling, our Musical Director and recently have given updates on members of the London Touring Cast who performed so wonderfully in Risen! The Musical.
As I have said we are, at present working on the sequel to Risen! based on the Acts of the Apostles and about eight years before Risen! we had another production called His Story. His Story told the whole story of the life of Jesus through acting, music, dance and multi- media. We had singers, musicians, actors and dancers but no multi- media. The legend that is Mr Mill (Bob Milliken) who is a Trustee of Mustard Seed Songs and who taught with me at Crofton School, suggested I meet at Porchester Baptist Church someone called Darren Bovis-Coulter. Mr Mill said that what Darren didn't know about all things computer was not worth knowing and he was not wrong! Since those first productions of His Story Darren and his lovely wife Nikki have been indispensable to Mustard Seed Songs, producing the His Story multi-media, countless amounts of artwork and design for CDs, DVDs, brochures, banners and in addition the websites for Risen! The Musical (www.Risenthemusical.com) Mustard Seed Songs (www.mustardseedsongs.org.uk) and His Story (www.Hisstory.org.uk ) Most recently Darren designed and built the stage set for the Risen! The Musical Theatre in Education tour. The children loved the "Minecraft" theme which was another brilliant idea of Darren's.
Darren read the prayers at Caroline and my wedding so that is an indication of how much I rate him (I nearly said love him – perhaps I should have done!)
Another relatively new talent in which Darren is excelling in is photography – his work is absolutely stunning and is gaining international recognition – check out https://gurushots.com/BadlyFittingHat/
Darren is now a Pastor in Coventry – which reminds me -he also instigated the first live professional performance of Risen! The Musical at the Coventry Pentecost Festival in May 2015. We also co- wrote today's featured song "Because Of Your Grace."
On his recent birthday he posted this mini bio:
What a blessed day… I don't want this to be a long post… But as it's my birthday and so many people have said such lovely things I wanted to share why today in particular was so special.
Some will know my full story and others not, but looking back on my life and reflecting on how far I've come, today has just been the most amazing day.
I wasn't brought up in a Christian home but had a loving family, unfortunately when my parents split up I found myself in a difficult …place which ended up with a period of homelessness, and as a result of that homelessness I went on a journey where I met my biological father, Paul, who at the time was journey through Faith and he was part of my story that led me to Christ. Many other wonderful people were also part of my journey which was full of stories, twists, turns and life can be so 'exciting??' sometimes.
I went to uni where I met my wife Nikki and we lived in Portsmouth for about 14 years. Now my journey to Faith started a few years earlier when I was listening to a preacher one night speaking about all the things you want in life, the house the wife, the boat the car the whatever, but at the end of the day it all turns the dust and the one thing that doesn't is the love of God.
So here I was 40 years old with the house, the wife, the boat, the car, the family, the kids and cats, a thriving business etc., when God said to me, pack it all up and come and follow me, the things that you do, the skills that you've got, don't take them to the grave without serving me first, so I uprooted my family in obedience and came to Coventry to work in what I thought was the dream job where God wanted me and my family to be. This was not to be and after a short time, the role came to an abrupt end.
We found ourselves living in an area we didn't know, and it seemed all our new family and friends of church had gone. We felt very lonely and redundant… Not required!
But it was Nikki that had the wisdom and said there's a church just round the corner Limbrick Wood Baptist Church, and long story short, having looked for many different jobs the church and I agreed to dip our toe in the water and see if God is calling me to serve there… Well… We've been there for nearly 3 years now, and today, my birthday is the first time I have ever been part of taking a church on mission! To #GO! into the community and to preach the good news with lots of prayer and fasting!
This has been the most amazing birthday ever… 48 years old and the privilege of leading a church on mission, that we might see God's kingdom come and God's will be done and I just want to thank everybody who wished me happy Birthday and for those that are praying and continue to pray.
I said it might be a long post, but I really wanted to share my joy and to say thank you to everybody that's been part of our journey!
Quote of the week
Dreams always come a size too big so that we can grow into them
The Word for Today