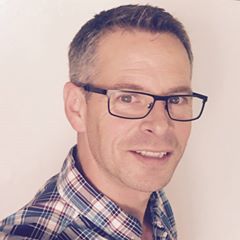 Rev. Christopher Wickland – Senior Pastor of The Living Word Church Network
Video clip from Mustard Seed Songs' first musical His Story
Triumphal Entry (Shearsmith/Wickland) featuring the Mustard Seed Soul Band from the album His Story recorded and produced by Ross Gill
Last week I mentioned that before Risen! The Musical, Mustard Seed Songs' produced another musical called His Story.  In His Story actors relived the life of Jesus cuing up songs performed by the Mustard Seed Soul Band, enhanced by dancing and a multi- media package.  His Story played at the Kings Theatre, Southsea (at which the featured clip was filmed) the Ferneham Hall, Fareham and Central Hall, Westminster, London. There are some songs from His Story that also feature in  Risen! The Musical  including "Jesus is my Lord," "Be Set Free" and an up tempo  version of "You Are My Rock."
Members  of the Mustard Seed Soul Band have included – Guitar: Ross Gill and Chris Wickland, Bass: Andy Herbertson, Gareth Matthews, Ben Lewis and Harun Kotch – Drums: Darren Lewis and Josh Eaves – Percussion: Ian Johnson – Trumpet: Stuart Fowler and Jo Downs – Saxophone: Rob Richardson, Mike Backhouse  and Tim Downs – Trombone: Matthew Sargent and Philip Brockenshire – Violin: Cathy Matthews – Vocalists: Nicola Poustie, Fiona Poustie, Kat Hands, Katy Summer, Lianne Wilson, Lucy Rutherford,  Jessica Castillo-Burley, Ross Gill, Harun Kotch  and Mike Backhouse.
I highlighted the name of guitarist Chris Wickland because on Friday of last week I heard him give a fantastic talk about his life – only about thirty seconds was given over to his life as a musician – the rest was devoted to his journey from Witchcraft to Christ. I cannot give what was an amazing and totally unique talk justice here but instead I encourage you to take the time to listen to Chris' talk via this link https://www.facebook.com/501936389/videos/10156645094346390/
Incidentally Chris playing guitar with the Mustard Seed Soul Band is captured approx. 1 min 1 secs into today's His Story video clip.  He also penned the fantastically catchy music of today's featured song which Chris originally titled  Winter Festival. I loved the tune so much that Chris graciously gave me permission to add lyrics and so it became a His Story song – The Triumphal Entry.
Quote of the week
Let God's peace be the Sentinel that stands on duty at the door of your heart.
Every Day With Jesus