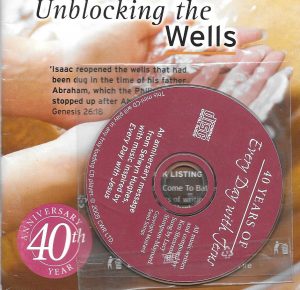 Lord I Come to Bathe in Your Glory featuring Lucy Stimpson-Maynard from the album Love is the Way recorded and produced by John Hodkinson
For many years I have read the daily Bible reading notes published by CWR and written by Rev. Selwyn Hughes-"Every Day With Jesus" (EDWJ.) Selwyn's words have inspired many Mustard Seed Songs, in fact in 2005 we were honoured to have a mini CD of Mustard Seed Songs attached to a special edition of EDWJ which marked the 40th anniversary of this daily devotional.  It was our honour that 80,000 of these editions were distributed worldwide.  The featured song today comes from that mini CD. Selwyn died in 2005 and it was also our honour for some of our songs to be played at the celebration of his life held at Central Hall, Westminster.
CWR continue to publish previous editions of EDWJ with the September/October 2018 issue named "Ten Words"  – an in- depth exploration of the Ten Commandments.  The points that Selwyn made were I felt very well summed up in the final devotion of Wednesday, October 31st which had Romans: 13 8- 14 as the day's Scripture:  "Therefore love is the fulfilment of the law."
Here is Selwyn's summary:
We saw yesterday that every breach of these Ten Words (Ten Commandments) is a breach of love and when love directs life there is no such breach. So important is this simple but magnificent principle that we spend our last day together applying it to each of the Ten Commandments.  If we love God absolutely, then we will not be able to find room for another god and the first of the Ten Words is fulfilled. Supreme love for God also means that we will not suffer anything to stand between us and Him and so all idols are broken to pieces. Out of love will spring a reverence of His name and a life worthy of the one who lends His name to us. Love understands the principle behind the Sabbath and will not just cease from work but will also gladly engage with rest and remembrance.
In the second part of the Commandments, love for God means we will honour our parents and will quench all thoughts of hatred for others. Love treats another's property with respect and keeps our thoughts and conduct towards the opposite sex pure. When love is the filter of what we speak it arrests the faintest whisper of false witness against others.  And love of God gives us a contentment with ourselves and what we have that leaves no room in the heart for coveting anything but Him and the greatest thing- love (I Corinthians 13;13) When men and women  learn to love then Sinai, the mountain  of fire holds no fear. They can stand tall against it, knowing that as Jesus lives and loves in them thoughts will be born, words will be spoken and deeds will be done – in love. Then in thought and word and deed the law is fulfilled.
Quote of the week
If God's mind was small enough for me to understand then He would not be God.
Joni Erikson- Tada in The Word for Today