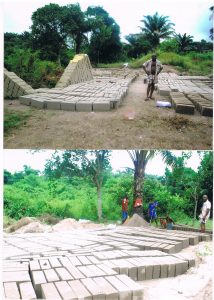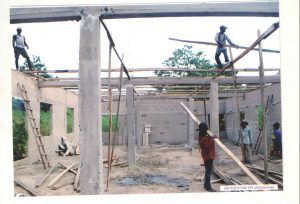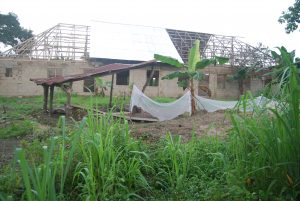 Risen Christ Central Chapel – July 2017 to October 2018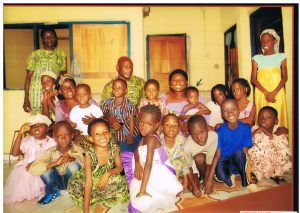 Pastor Patrick with some of the orphans in his congregation
A Mustard Seed Of Faith – featuring the Portsmouth Gospel Choir from the album "How Great Are His Signs" recorded and produced by Joffy Girling
Mustard Seed Songs are, at present involved in four different projects- Risen! The Musical,  Risen! The Musical Theatre in Education, our new musical Acts- Part One "Fire" and the construction of the Risen Christ Central Chapel in Southern Nigeria.
More on Risen! The Musical next week after we have made public on YouTube the version with subtitles in Mandarin.
I am writing more letters this week to potential sponsors of an Easter 2019 Risen! Theatre in Education tour of Primary schools.
Thanks to Chloe Brokenshire, Gemma Terry and Tim Prestige who on Monday recorded ensemble parts for Acts  (thanks also to Joffy Girling our Musical Director recording and production wizard)
This week, however I just wanted to show the fantastic progress that has been made on the building of the Risen Christ Central Chapel in Cross River State, Southern Nigeria. I hope the pictures speak for themselves as to how much has been done in the past 15 months.  The next stage is to finish lining the inside of the roof and then it will be the installation of windows and doors, next electricity and then tiling and plastering.
It is still not too late to help with the costs – you could either download the CD "How Great Are His Signs" featuring the amazing Portsmouth Gospel Choir which was recorded especially to raise funds for the build. https://mustardseedsongs.hearnow.com/
There is also the opportunity to make a contribution directly by visiting our My Donate page – https://mydonate.bt.com/events/portsmouthgospelchoir/452133
Many thanks indeed
Quote of the week
It's not what you have lost but what you have left which counts.
The Word for Today