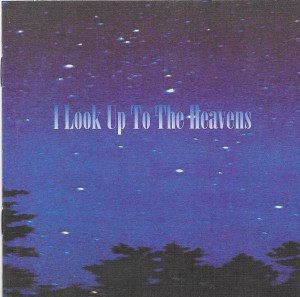 Mustard Seed Songs First CD " I Look Up To The Heavens" featuring Lucy Stimpson – recorded and produced by John Hodgkinson.
"Father Let Your Spirit Fall Upon Me"  featuring Lucy Stimpson from CD " I Look Up To The Heavens"
So after a couple of weeks of reminiscing over the fantastic Easter Sunday Risen! Concert let me return to the story behind the music of Risen! together with  that of other Mustard Seed concerts and CDs.
When sometime in late 1997 I read in the Holy Rood Church notice sheet that there was a Worship Seminar to be held in Winchester, led by Brian Doerksen,  I had that "feeling" inside again that made me know that this was something I was meant to attend.  One of the many songs that Brian had written was "More than Oxygen" which had been  played at the Service in which I was baptised ( see blog April 17th)  Brian is from Canada so I knew the opportunities to attend one of his Seminars would be few and far between.
So I went on my own to Winchester – which of course I knew pretty well having been to Teaching Training College there- to a church (now Winchester Family Church) housed in what had been a Cinema.  I have to say I was not entirely comfortable with all the hand raising and that is about all I can remember from the evening apart from the important fact that I thought – "I wonder if my pop songs could become Christian songs – perhaps that is why it was intended that I came to this Worship Seminar? "
So I went home and started "converting" the lyrics of my pop songs to Christian lyrics. For some songs this was relatively easy – only needing for example to change "Baby" to "Lord!" For others it was not so simple, for example "Don't Lose Sight Of My Shore" became "Father Help Me Acknowledge You" taken from Psalm 139.
So I went to see John Hodgkinson and told him that I wanted to do some recording again. He was fine about that – however I now had to tell him that the songs to be recorded were no longer straight pop songs, with a view to making us money, but Christian songs.   For some reason I was embarrassed about this and so mumbled "John, the words have changed."  John replied "Why, the words are fine."  "Yes John but now they are Chris………. words" I did not actually say the word Christian as I had my hand over my mouth so just a muffled "Chris …" came out.  About three times this happened before John could hear the word "Christian." "That's fine" he reassured me – so there had been no need  for me to be embarrassed at all.
Next thing was to find a singer. I am sure Louise Redknapp (spelt correctly this time) and Cole (see blog March 20th) would have sung it but I had just heard Lucy Stimpson sing at the School Prom Karaoke (see blog March 13th) and knew that "she was the one." So next day I ventured over to the Music Department armed with my cassette of "Don't Lose Sight Of My Shore."  After hearing it Lucy said that she would love to record it but why as the previous recording was great. "Ah yes Lucy" I hesitantly explained "But the words have changed."  "Why, they are great words" insisted Lucy.  "Thanks, but they are now "Chris……. words" I burbled with hand over mouth.  After the regulation three "Chris's ….." the word Christian came out to which Lucy replied "That's great I am a Christian." What no way -this was going too well – what about all the micky taking I was expecting?
I also found out that Lucy not only had a beautiful voice but also played piano brilliantly. Also  that she could play either by reading music  or by ear – and as there was no way that I could ever produce written music Lucy being able to play by ear was just perfect!
So the first CD was born- " I Look Up To The Heavens."  The majority of songs being converted pop songs all recorded in John Hodge's studio in his house.   I remember   "If Love Had Never Died" became "Jesus Is The Alphabet," "No More Sad Songs" became "Let Us All Stand Up And Be Glad" and "Take My Look, Take My Touch, Take My Whisper"  which I had made up to sing to my son Chris at bedtime  became "Father Let Your Spirit Fall Upon Me." "I had not made that song up when James, my other son was of an age to be sung to at bedtime – he had to put up with a version of James Taylor's "Sweet Baby James."
I remember giving my colleague in the PE Department, Neale Gordon, a cassette with some PE stuff on it not realising it also had a recording of "Father Help Me to Acknowledge You." I remember Neale saying "What's all this Father stuff I heard on that cassette you gave me?" I thought "Oh no here comes the micky taking big time" but no, Neale simply said "Well I liked it – anything I can do to help let me know." And so Neale designed the artwork for our first three CDs and our Mustard Seed logo, created the first Mustard Seed Songs website and was I/C sound for many of our concerts.
When the recording of "I Look Up To The Heavens" was completed in 1999 Lucy, John, Neale and myself went to London to Hiltongrove Studios to have the CD mastered. We made a day of it picking up a West End Show- great times!
James, my son (who I have to say is now really supportive and gives good advice) said to me when we had 1000 CDs of " I Look Up To The Heavens" reproduced -"Once all the aunties have bought a copy you won't sell any more – I reckon 50 of  those 1000 CDs will go at best. "
Well for once he was wrong- very wrong – next week I will tell you how many copies of  "I Look Up To The Heavens have been  sold and also how Mustard Seed Songs became a registered charity – and that really  is an amazing story!