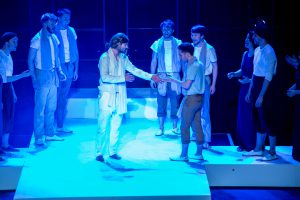 "Peace Be With You" featuring the London Touring Cast from the album "Risen! The Musical
A few blogs ago the quote for the week was "Doubt your doubts and believe your beliefs." This was inspired by some thoughts on doubt written by Selwyn Hughes in an  "Every Day With Jesus" edition -"Strong at the Broken Places." I want to spend the next few weeks using extracts from this to explore the issue of doubt in the Christian faith.
When thinking of doubt invariably the name of Thomas comes up – in my opinion most unfairly deemed "Doubting Thomas" Risen! The Musical gives what I feel is a very plausible explanation for his doubt and before embarking on Selwyn Hughes' thoughts I decided to share this extract from a blog I wrote in April 2015.
In John's Gospel we learn that the first person to see Jesus alive was Mary Magdalene- that was very early on the morning of what we now call Easter Sunday. Luke's Gospel tells us that later that afternoon He appeared to Cleopas and his friend as they were walking to the village of Emmaus. Later that evening Jesus again appeared to His disciples but John tells us that Thomas was not with them. When the disciples  exclaim to  Thomas " We have seen the Lord" (John 20:25) Thomas  does not believe them and  says "Unless I see the nail marks in His hands and put my finger where the nails were and put my finger into His side, I will not believe it."
And this is why poor Thomas has forever been referred to as "Doubting Thomas."  I had always felt this to be completely unfair – we learn from John 11:16 that Thomas was, in fact, a courageous man who told the rest of the disciples that they should all follow Jesus into danger when Jesus decided to travel to Bethany near Jerusalem- in fact Thomas said to the disciples "Let us also go that we may die with Him." – hardly the words of a man who doubted Jesus!  Risen!- The Musical portrays Thomas' "doubt" as being caused  by him being  so overcome with grief, after seeing Jesus crucified, that he just did not dare believe the disciples when they told him that Jesus was alive. He did not want his hopes dashed yet again.
John tells us that Jesus appeared to the disciples again one week later and this time Thomas was with them and proclaimed to Jesus "My Lord and my God."  In Risen!- The Musical  I took a little poetic licence and imagined what Thomas would have done in that week between hearing from his friends that Jesus was alive and then seeing Jesus Himself.  I have portrayed him going somewhere in solitude, immersing himself with those Psalms that focus on trusting God and ending up singing "How Great Are His Signs."  This is a song that not only featured in Risen! The Musical but was also the title song of the EP "How Great Are His Signs" featuring the wonderful Portsmouth Gospel Choir. This will be next week's featured song.
Quote of the week:
The church is not perfect – that is why people like us are welcomed there
The Word for Today