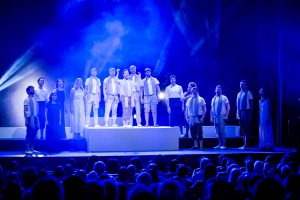 Caption "How Great Are His Signs"  from Risen! The Musical featuring the London Touring Cast at the New Theatre Royal, Portsmouth

"It's Now One Week" followed by "How Great Are His Signs" from the album Risen! The Musical featuring the "Original Cast"
So last week I started to consider the issue of having doubt in one's Christian faith. I talked about how in Risen! The Musical we portrayed the unfairly named "Doubting Thomas" in his true light – a loyal friend and follower of Jesus. Selwyn Hughes also refers to Thomas later in this extract from an "Every Day With Jesus" edition -"Strong at the Broken Places."
I once met someone like this: She was a scientist and had serious doubts about certain parts of the Scriptures. "I'm afraid that one day I'll wake up" she said "and discover that science has disproved large chunks of the Bible." I could sympathise with her but in reality her doubts were quite unfounded. Science- real science that is – will never disprove the Bible. Half – baked science may appear to discredit the truth of God's word but real science only ever validates it.
The classic example of a person who doubted is the disciple Thomas. We call him "doubting Thomas" but that is largely an unfair label. How said it is that often we pick out a negative trait in a person and label them according to one thing. Thomas had his moment of doubt, but he became strong at the broken place. How strong? Let history judge. A well authenticated tradition has it that Thomas went to India and founded a strong church there. Even today there are Christians in India who call themselves by his name – the St Thomas Christians. They are some of the finest Christians I have ever met. Thomas had his doubts allayed in one glorious moment of illumination- and then he went places. So can you!
Quote of the week:
Things turn out best for the people who make the best of the way things turn out.
John Wooden