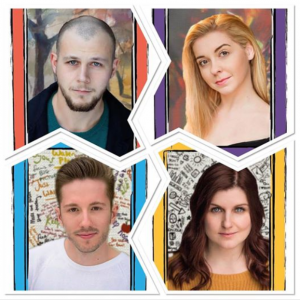 Cast of "Ordinary Days" Max Panks, Kathryn Kitchener, David Murray and Katie Forge.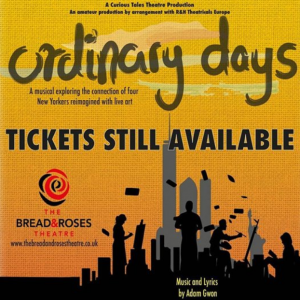 "What More Could You Do Lord?" featuring Lucy Stimpson-Maynard from the album "Where Would I Be Without You?" recorded and produced by Ross Gill
So last Friday I drove to Raynes Park – left my car – walked to the train station -caught a train (which now seems to be called an "Overground" ) to Clapham Junction – changed to catch another "Overground" to Clapham High Street- walked up Clapham High Street past endless bars (all pretty empty at 7.00 pm but all packed solid at 10.00 pm) ) turned right and came to the Bread and Roses pub and theatre. Why? Well because three of the cast of Risen! The Musical – Max Panks (Jesus) David Murray (Thomas) and Katie Forge (Joanna) were playing there in the musical "Ordinary Days" written by American composer Adam Gwon. The pub was great – everyone so very friendly- the theatre was intimate with a fantastic atmosphere and the show was fabulous.
If you have not heard of "Ordinary Days" here is a little synopsis:
Set in New York City, the musical follows four characters, Claire, Jason, Warren and Deb, exploring how their ordinary lives connect in the most amazing ways. The show includes 21 songs which tell the story of these two men and two women.
Claire is in her 30's and is embarking on a new stage of her life with boyfriend Jason. The decision to share an apartment is the catalyst for Claire to face her past.
Jason is in his 30's and is the boyfriend of Claire. A romantic at heart, he spends the bulk of the musical attempting to further his relationship, at first by moving in ("The Spaces Between") and then by proposing. Claire consistently resists his attempts leading to the central conflict of their story arc ("Fine").
In her mid- twenties, Deb is a cynical and defensive grad student who is struggling to find focus in her life. She meets struggling artist Warren when he finds her thesis notes in the street.
The cheerful and sometimes annoyingly optimistic Warren sees beauty in the simple things in life, delivering the musical's message and final number ("Beautiful").
Wikipedia states:
London based company Curious Tales Theatre announced they were staging an amateur revival of "Ordinary Days" at The Bread and Roses Theatre for 5th-16th March 2019. Under the direction of Phoebe Rhodes and musical direction of Adam Parrish, the performance will feature live painting by artists and performers Max Panks (Jason) and Kathryn Kitchener (Claire).
So if you happen to be in London tonight, tomorrow or Saturday then I can wholeheartedly recommend you take a trip to the Bread and Roses theatre- you will be wonderfully entertained.
Quote of the week:
People need loving the most when they deserve it the least
The Word for Today