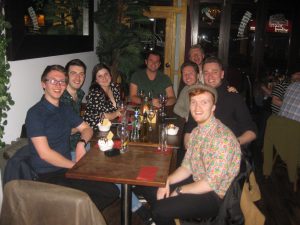 The London Touring Cast after recording Acts The Musical – Part One "Fire"

We've been travelling – Give Us Your Heart Lord featuring the Original Cast from the album Risen!The Musical recorded and produced by Joffy Girling
First and most important – every good wish to our webmaster PJ for a speedy recovery – he will be posting this blog from his hospital bed. Get well soon my friend!
Had a great time in Ealing last weekend.  I had booked an Airbnb with a fantastic host called Alex – he had converted his loft into a brilliant apartment with kitchen, bathroom, bedroom and a great living space. So from Friday to Sunday lunchtime Joffy recorded a stream of alumni from the London College of Music -members of the London Touring Cast who performed Risen! The Musical so wonderfully  well;  the New Theatre Royal performance having been filmed and now available on You Tube with subtitles in Mandarin, Spanish and Romanian- check out please www.risenthemusical.com
We were recording Mustard Seed Songs' latest project which is a musical based on the Acts of the Apostles and that  has a working title of Acts- The Musical Part One "Fire,"
So a big thank you to Benny, Casey, David, Katie, Johnny, Max, Andrew and Jamie who all did such great jobs recording the parts of Simon the Sorcerer, Stephen the first martyr, Saul/Paul, Philip the Evangelist, the Ethiopian Eunuch and the crippled man who was healed at the Temple  gate called "Beautiful." In addition to solo pieces they also sang ensemble parts – which sound awesome.
Joffy is working on the edit right now. When that is complete the next stage will be to record the lead role of Peter which is being performed by Paul Clements (Judas from the Risen! The Musical CD.) We also desperately hope and pray that James Townend (Thomas from Risen! The Musical CD) will recover from a nasty illness and so will be able to record the part of the disciple John. .
We will then have the complete show recorded with piano accompaniment for people to have a listen and then, depending on the response, we will decide whether or not to go for a full orchestrated accompaniment.
Exciting !!
Quote of the week:
Silence can never be misquoted
The Word for Today