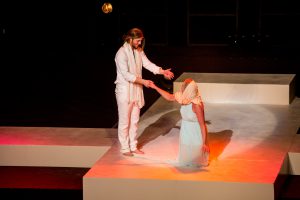 I Know Its Not Yet The Start Of The Day featuring The Original Cast from Risen! The Musical recorded and produced by Joffy Girling
The first production of Risen! took place at Holy Rood Church, Stubbington on Easter Sunday 2012. There were further Risen! performances at Holy Rood on the Easter Sundays of 2013 and 2014. Then in March 2015 the Risen!  CD, featuring the Original Cast, was released and in May of the same year the first professional stage production featuring the London Touring Cast took place in Coventry. This was followed by another London Touring Cast production in November at the recently re opened New Theatre Royal in Portsmouth.  In April 2016, again at the New Theatre Royal and again featuring the London Touring Cast Risen! The Musical was filmed by Global Fire Creative. Since then Risen! has been viewed countless times on You Tube and in broadcasts from Revelation TV in the UK and from Alfa- Omega TV and Credo TV in Romania.
It is truly wonderful to know that many, many people have been blessed by Risen! I was overjoyed when I received a letter this week from a lady living in Central France who wrote:
First of all I want to congratulate you on a truly inspiring programme I watched over Easter on Revelation TV.
It was so fantastic to see the Gospel delivered in such a way that didn't stop at Christ's death, with fantastic singers and a really simplistic but powerful set. My daughter missed the presentation but watched it on YouTube last night, phoning me at the end in tears, as both my husband and I were after the broadcast.
Quote of the week
The world bases importance on the number of people serving you but God is much more interested in the number of people you are serving
The Word For Today