Paul Clements singing Peter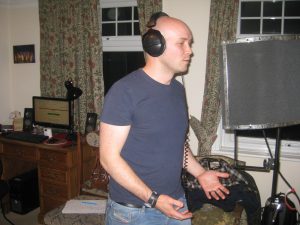 James Townend singing John
"Peace Be With You"- "Put Your Finger Here"- "You Are My Lord" featuring
the Original Cast from Risen! The Musical recorded and produced by Joffy James
So yesterday Joffy and I  spent the day recording the final two vocal pieces for the sequel to Risen! The Musical – Acts The Musical – Part One "Fire." Peter was performed by Paul Clements who sang the part of Judas in the Original Cast recording of Risen!  Paul also runs Visionworks who are holding auditions on Wednesday May 15th for their next production which is "The Lion The Witch and the Wardroom." If you are interested in auditioning then please contact info@visionworksproductions.co.uk
The part of John was performed by James Townend who sang the part of Thomas in the Original Cast recording of Risen!  When I see James and hear his amazing voice I am always reminded of the story of how he got to play the role of Thomas. Below is an extract from the blog post of 2014
Ever year at Crofton Mr Mill would organise a Charities Week and one of the fund raising events was an "Unplugged Karaoke."  I was sitting in the audience next to Lucy Stimpson-Maynard when James Townend came on and sang "Walking in Memphis." It was fantastic and at the end Lucy and I instantly rose as one to give James a standing ovation as did the rest of the audience.
When it came to putting together a Mustard Seed Concert programme to support two people that were to work for Tearfund I thought it would be a great idea if James sang – especially as one of the people we were  supporting was  James' sister Clare.   I chose a song I had made up that I thought would suit his voice "You are my Rock."  Anyway to cut a long story short it was just not happening for James- however right at the last minute I had the idea of asking  him to  sing "Walking in Memphis" instead – when he did  it sounded great so I then suggested he  just sing " You are my Rock" in  the same way. James was reluctant as he was "putting on a voice" to sing "Memphis" and he thought that it would be dishonest if he did the same for "You are my Rock." I assured him that this was not the case and he ended up giving a great performance.
James would then have been 16 then and although I stayed in touch with his family who went to Holy Rood Church I lost contact with James himself.  However I was discussing our musical "Risen!" with my dear friend Dr Graham Giles and the fact that we needed some singers for a forthcoming production.  Unbeknown to me Graham had recently been chatting to James who had just seen the film version of Les Miserables and so felt inspired to get involved with a musical himself. When Graham told me this my mind went back some 12 years to when James sang" Walking in Memphis" and so James and I met at Holy Rood church and he sang me the part of Cleopas from Risen! which I had earmarked for him. However he told me that he had also practiced another song from Risen! – one sung by the disciple Thomas.  I thought that I might as well hear it and when I did I was speechless – it was so emotional and powerful. he just had to have the part!  
So for James to now be able to sing the role of John for our new musical is simply brilliant!
Quote of the week
When we focus on what we believe we divide when we focus on WHO we believe we unite
Anonymous