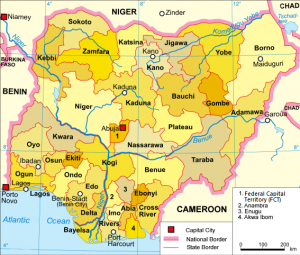 Map of Nigeria

Love is the Way  featuring Lucy Stimpson-Maynard from the album Love is the Way recorded and produced by Bob Ross
Nigeria is a country close to my heart as Mustard Seed Songs have been fund raising to construct a church – the Risen Christ Central Chapel in Cross River Stage, Southern Nigeria.
In Cross River State Christians are relatively safe but not so further north where Christians can be brutally attacked by the militant Islamist group Boko Haram which is said to be fighting to overthrow the government and create an Islamic state. In addition, according to the 2018 Global Terrorism Index, 1,700 violent deaths have been attributed to Fulani herdsmen in attacks carried out between January and September 2018.
So it is in this horrific context that I was overjoyed to read this story in "Barnabas Aid" which is a publication for Barnabas Fund; a charity which supports the persecuted church.
When Boko Haran militants attached a group of 500 Nigerian Christians converts from Islam 76 Christians were captured. Four male leaders amongst the 76 were asked to return to Islam or be shot. They refused and were killed. Then their four widows were asked to return to Islam or their children would be executed. While the women were agonising, their children ran in saying that Jesus had appeared and told them all would be well. Then Jesus appeared to the whole group of 72 telling them not to fear, not to renounce Him and He would protect them. The following day the militants lined up the children and when their mothers refused to deny Christ took aim. But before any child was shot the gunmen started grabbing at their own heads screaming "Snakes!" and fleeing from the scene. Some dropped dead. A Christian man picked up the gun of a dead militant but a little girl stopped him from using the weapon saying "You don't need to do that. Can't you see the men in white fighting for us?" Praise God for this miraculous intervention and pray that the surviving militants will turn to Christ.
Quote of the week
Go with what you have got
Steve Dimon