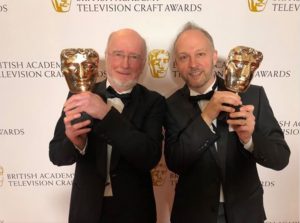 Tudor Davies receiving a BAFTA for Sound Engineering on "Later Live with Jools Holland"
Don't Lose Sight Of My Shore featuring Louise and Cole recorded and produced by John Hodgkinson
So what is the connection between Mustard Seed Songs and Tudor Davies I hear you ask.
Well Tudor was very much the start of it all. Here is an extract from my blog of over five years ago.
One day I went for a meal at the home of Mrs Jan Davies and her husband Barry.  Jan was the first PE teacher at Crofton, having started a year earlier than me when the school was housed in the temporary accommodation at Crofton Hammond.  Jan had twin boys Tudor and Alun.  Tudor was really into music (he now works for the BBC Sound Department) and had a keyboard in his bedroom.  I left the adults downstairs drinking coffee (which is a pet hate of mine) and went to chat to Tudor.  He played me some stuff on his keyboard and I hesitantly asked if he could play something if I sang it to him (apologising profusely about my voice of course) I sang him a new song I had made up "Don't Lose Sight of My Shore"  Again not the happiest of lyrics – "When you start your journey tonight , have to leave my arms once more, please don't forget all that's been said don't lose sight of my shore. Stay in touch with my touch, let my emotions still soar, keep my hand within reach, don't lose sight of my shore"
To hear him play the melody back, which up to then I had only heard in my head, was utterly amazing.  He then played "If Love Had Never Died" and some of the other songs I had made up. I went home buzzing.
Next day I went to see my mate John Hodgkinson (Mr Hodge) who was Crofton's Head of Science and also a brilliant musician, in fact he played in a band with Tudor – "Trilogy." When I told John what had happened the night before he said " I can do that. My nickname is Xerox–  I can copy anything. "  Sing me your song." "No way"   I said whilst secretly hoping he would persist- which he did. So that break -time I sang to John "Don't Lose Sight of my Shore" which continued"  For we made magic held each other spellbound but our love was no illusion just the truth that we both found"
John was quiet when I had finished and then said " We had better record that- come over to my place – I have a recording studio"  And that's what happened.  We then got a girl in my tutor group- Louise to record  a somewhat better version than my effort and later we decided that it worked better as a duet so we added the voice of a guy called Cole who was lead singer in another band that Tudor played in -"Yellow Cab"
And  then we sent it off to record companies and believe it or not  we got a  phone call from a record company that had produced a big hit – "I Love Rock and Roll" by Joan  Jett and the Blackhearts. They said they wanted to use "Don't lose sight of my Shore" for their Eurovision Song Contest Entry – Fame at last? – Well actually no but it was the start (not of fame but of writing songs!)
Quote
Opportunity is a visitor; don't assume it will be back tomorrow
Word for Today