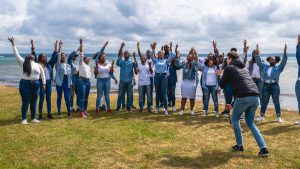 Joffy Girling filming the Portsmouth Gospel Choir singing "A Mustard Seed of Faith"
"Do I Need To Worship"? – featuring the Mustard Seed Soul Band from the album "His Story" recorded and produced by Ross Gill
One of Mustard Seed Songs' Mission projects is the construction of the Risen Christ Central Chapel (RCCC) in Cross River State, Southern Nigeria.  The roof is on, the ceiling in place, there are doors and windows and the electrics have been installed. The next stage is for the floor to be tiled. In order to launch a fund raising campaign to fund the £2000.00 required the Portsmouth Gospel Choir graciously agreed to help by being filmed at the shore of Lee on Solent singing a track from their "How Great Are His Signs" EP – "A Mustard Seed of Faith" https://store.cdbaby.com/cd/portsmouthgospelchoir. This is Pastor Patrick's of RCCC favourite song.
Joffy Girling, our amazing Musical Director came to film the track using some fantastic equipment including a £2.5 K drone!
However if you have been living in this country for the past month or so you will know that we have not exactly been blessed with good weather (to put it mildly!) so the 10.00 am start was delayed because of rain  and we were not able to film until 3.00 pm. The choir were wonderfully patient (it helped that there was a local pub and restaurant nearby) – Joffy was constantly checking the weather with his Met Office app and we did in the end get an hour or so of clear weather.
There were 24 from the Portsmouth Gospel Choir that gave up their time – some alumni coming down by car and train from London and some coming from Portsmouth- so it was a really generous giving of their time  and thanks so much again to them all.
One great bit of news is that a couple of days earlier two from the Portsmouth Gospel Choir, Heavilyn (Heaven) Sarprong and David Ohene- Akrasi became engaged. Heaven was the Musical Director for the "How Great Are His Signs" EP and David led the band,  playing keys.
So all at Mustard Seed Songs say "MANY CONGRATULATIONS HEAVEN AND DAVID!"
As soon as Joffy has finished editing the video I will publish it on this blog.
Quote of the week
You can always tell when you are on the road to success -it's uphill all the way!
The Word for Today