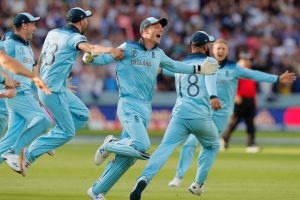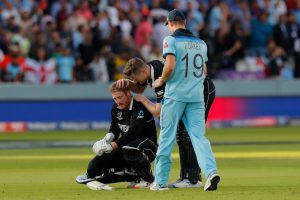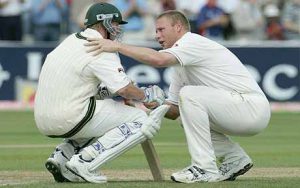 1) England overjoyed
2) Chris Woakes (Eng)  goes to console Martin Guptill (N.Z)
3) Andrew "Freddie" Flintoff consoling Brett Lee 2005
"Glorious in His Humility" featuring Lucy Stimpson- Maynard from the album "Love is the Way" recorded and produced by John Hodgkinson
Cricket fan or not (and I am a huge fan) the World Cup Final on Sunday was absolutely amazing – a tie – a super over etc. etc. I was not able to watch it live but when I saw the highlights I was at first hugely disappointed that the English players were so caught up in their celebrations that no one bothered to console the devastated New Zealand batmen who had so narrowly been defeated. My mind was cast back to 2005 when, in the Ashes, Andrew "Freddie" Flintoff famously consoled Brett Lee after he and the Australian team had been so narrowly defeated.
I was delighted to have now found a photograph of Chris Woakes of England moving towards Martin Guptll of New Zealand to console him. I had heard what a really nice guy Chris Woakes is and he certainly showed it here.
There will be masses written about the England cricket team and quite rightly so but I would like to take this opportunity to congratulate and thank the New Zealand team for the way that they conducted themselves throughout the whole tournament – indeed Eoin Morgan the England captain paid tribute to them saying "I'd like to commiserate Kane (Williamson) and his team. The fight that they show is worth aspiring to. The example that they lead is hugely commendable to him and his team."
The New Zealand team have indeed won many friends and admirers – I took this extract from an article on the BBC Sport website- it describes how, in the past, New Zealand cricketers have consoled players that they have defeated:
Four years ago New Zealand edged out South Africa in another World Cup thriller, this time in a semi-final.
Grant Elliott struck a six to take New Zealand to within sight of victory and raised his arms aloft in celebration when it was confirmed.
But a second later he was next to Dale Steyn, the devastated bowler, offering a hand to help him up from the ground and offer some commiseration.
Ross Taylor did the same to Carlos Brathwaite at Old Trafford during the group stages.
After the loss at Lord's, Williamson was full of praise for England. He and his team were visibly devastated – but there was no hint of bitterness. No suggestion of unfairness.
Just a smile, a handshake, and some calm words from Williamson. As he left his news conference for the final time, he was given a round of applause by the journalists.
He, and his side, are a credit to the game
Quote of the week
True strength is to overcome through humility.
Ken Shearsmith from the song "Give Us Your Heart Lord"